Careful planning means that when a Roscommon man goes to his grave it will have heating and be fitted with a television and telephone.
There is a graveyard in Knockcrockery County Roscommon that boasts one grave that does supply a tinge of amusement because the man whose name is on the tombstone is still alive.
Martin Dolan describes himself as foreseeing man and doesn't trust that someone else will look after the type of arrangements he has in mind after his demise. Martin had his tombstone engraved around fifteen years ago after a bout of chickenpox when he believed the end was nigh.
A graveyard is a bleak place at the best of times. It's not the sort of place one comes to for a bit of diversion or amusement.
Martin Dolan's final resting place has a battery operated heating system, which is switched on for an hour every week. The grave also has a television set installed and a telephone. Martin's coffin will be mahogany with gold-plating and a removable sliding lid with a two-foot square pane of glass. Just in case. The final touch is a bottle of brandy and a case of Guinness, without which Martin says won't go.
Mrs. Dolan however, wants nothing to do with her husband's plans and does not want her epitaph inscribed on the tombstone until she is in the grave.
My wife thought I was a real nutcase.
Michael a dog that has been dead for seven years now will join Martin Dolan in his grave.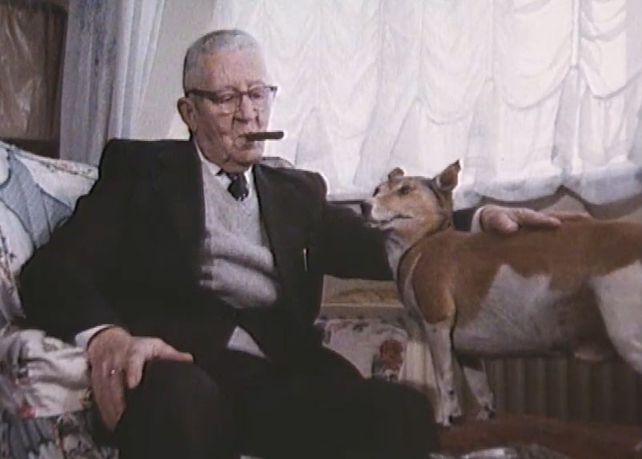 Martin Dolan with his dog Michael
He's stuffed and ready to go.
Martin says the site of the grave was chosen for the fantastic views and the good drainage.
This episode of 'The Live Mike' was broadcast on 14 January 1983. The presenter is Mike Murphy.