U2 and Q-Tips are among the acts at the Dublin Festival in Leixlip Castle, County Kildare.
An estimated 25,000 music fans converge on Leixlip Castle in County Kildare for the Dublin Festival. British band The Police are the headline act, with Squeeze, John Otway, U2, Q-Tips, Skafish and Moondogs also on the bill.
The festival site, open from 11.00 am, is larger and more secure than the one used for the Boomtown Rats concert in March 1980. The first band go on stage at 2.00 pm and the entire event runs until around 9.00 pm.
With festival tickets costing £6.50 each and long queues to enter the site, some young people opt to watch the stage from the roof of a van parked outside the perimeter fence.
Q-Tips lead vocalist Paul Young gets the crowd going with a cover version of the Sam Cooke number 'Having A Party'.
RTÉ Radio 2 DJ Dave Fanning introduces up-and-coming Irish band U2 on stage,
Alright then folks, how you doing, everybody who's just come in over the past half hour welcome to the gig, let's have a real welcome for U2.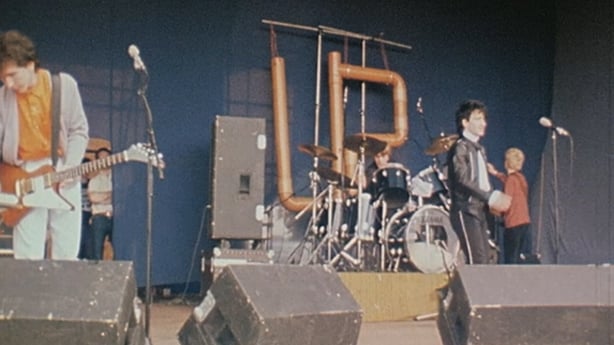 Before launching into their first single on Island records '11 O'Clock Tick Tock', with a nod to the band's backdrop, Bono asks,
Does anyone know who we are?
At the end of their set which also includes, 'Another Day', 'Shadows And Tall Trees', 'A Day Without Me' and 'Twilight', Bono declares,
This has been a good day for us, U2 thank you.
An RTÉ News report broadcast on 27 July 1980.