Folk Festival brings music and dance from nine countries to Cobh.
Since 1961, Cobh has been hosting an international folk festival of music and dance attracting thousands of visitors and an economic boost for the town.
Fota Wildlife Park was the setting for a parade of the nine countries involved in the Cobh Folk Festival.
Music and dance were the order of the day as participants come from France, Belgium, Holland, England, Sweden, United States, Spain, Ukraine and Ireland paraded through the wildlife park.
The festival is now in its 24th year and is a significant economic benefit to the town of Cobh.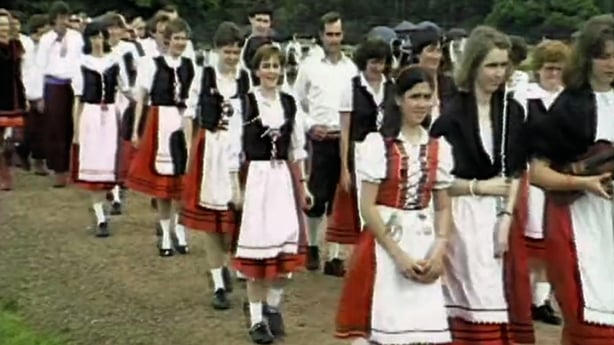 Cobh Folk Festival, 1985
Secretary and festival founder Joe Murphy describes the economic benefits brought to the town.
It's the biggest singular event in the calendar of events in Cobh.
An RTÉ News report broadcast on 22 July 1985. The reporter is Tom MacSweeney.