A train ploughed through the wall of the Cobh Heritage Centre after failing to stop at the adjoining railway station.
There were four crew on board the CIE train when the engine failed to stop and crashed into the end wall of the Heritage Centre. None of the crew were injured. The early morning train had arrived from Cork City to begin the day's service so there were no passengers on board.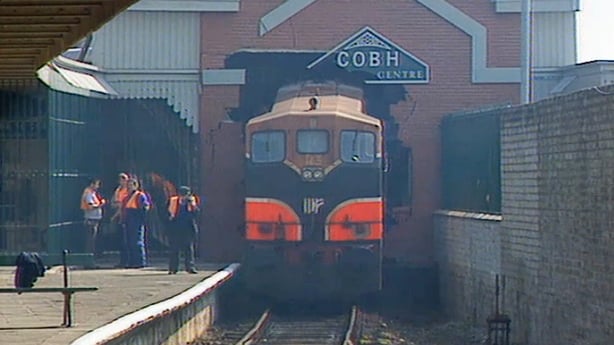 Cobh Train Crash
Michael Collopy, Manager of the Cobh Heritage Centre, described how the accident occurred.
The train continued in through the wall of the Cork Heritage Centre.
There was extensive structural damage to the Heritage Centre although some of the exhibits were saved. It cost around £2.5 million to construct the centre which receives around a hundred thousand visitors every year.
Carriages were removed from the scene but the engine remains embedded in the wall. Experts have been called in to assist with the removal of the engine to ensure no further damage is caused to the building.
An RTÉ News report broadcast on 5 May 1995. The reporter is Tom MacSweeney.