A new type of strawberry is being cultivated in Wexford specifically suited to the Irish weather.
It has taken scientists at the Teagasc Soft Fruit and Beekeeping Research Centre in Clonroche near Enniscorthy in County Wexford, fifteen years to develop a strawberry specifically suited to damp Irish weather conditions.
The resulting super strawberry, codenamed CL380, is not genetically modified. It is resistant to wet weather and all the common diseases such as root rot. The new variety of strawberry is undergoing final evaluation in Britain and the expectation is that it will prove commercially viable.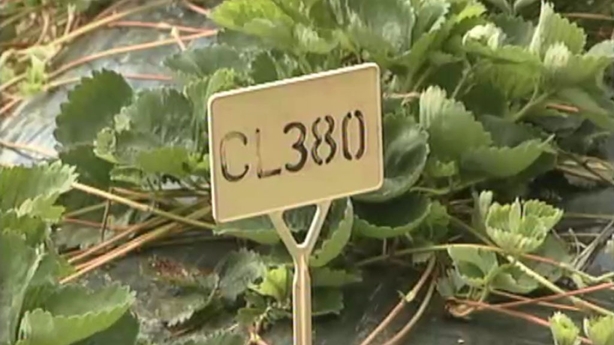 The director of the Teagasc Soft Fruit and Beekeeping Research Centre Finnain MacNaeidhe says results from CL380 test panels have been positive.
It does taste pretty good, and the texture is very good, and the shelf life is fairly good as well so we're fairly confident that it will fulfil a very important niche in the strawberry market here in this country.
The name for the new strawberry is Clonevan, derived from the Gaelic Cluain Aoibhinn, meaning happy field. Experts hope this new strain of strawberry will be available from 2001.
An RTÉ News report broadcast on 17 August 2000. The reporter is Damien Tiernan.