A rare strawberry arbutus tree on the grounds of the RTÉ complex has been moved to a new location to make way for the construction of a new building.
This is the second time the tree has been moved since RTÉ moved to Montrose. The tree was originally positioned beside Montrose House and was replanted beside the canteen around twenty years ago. It is now being moved again to make way for an extension to the television building.
It's a particularly fine example of the specimen which is quite rare in northern climates.
It took six people over six hours to move the tree at a cost of around a thousand pounds.
Dr Alan Hunter of the Department of Horticulture explains the sentimental value of the tree at RTÉ and the importance of preserving this unique tree.
RTÉ groundsman Peter Kelly, who has cared for the tree for the past seventeen years, is hopeful that the tree will survive its latest transplant.
An RTÉ News report broadcast on 14 May 1989. The reporter is Jeri Ward.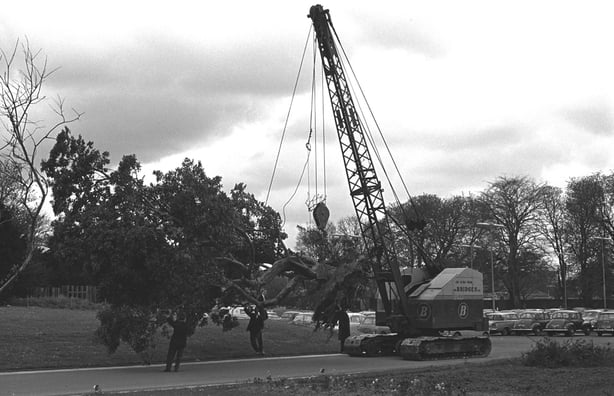 Strawberry Tree Being Moved (1967)