In India Irish men serving in the British army refuse to follow orders in protest at British army actions in Ireland.
On 28 June 1920, five men from the Connaught Rangers, an Irish regiment of the British army based at the Wellington Barracks, Jullundur (Jalandhar), Punjab in India, refused to perform military duties in protest over British army activities and the imposition of martial law in Ireland.
Fifty years later 'Seven Days' looked back on the mutiny.
The five mutineers were joined by other Connaught Rangers who refused to perform duties until British forces left Ireland. Led by Private James Joseph Daly, whose brother William took part in the protest at Jullundur, the protest spread to the Connaught Rangers company at Solon.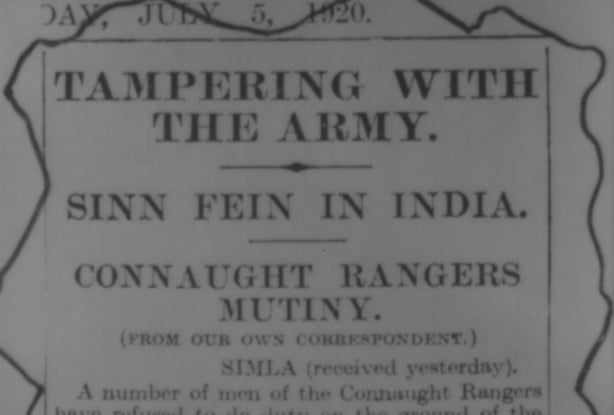 Within days, both garrisons were occupied by loyal British troops. James Daly and his followers surrendered and were taken prisoner. Eighty-eight mutineers were court martialed. Nineteen men were sentenced to death. Eighteen later had their sentences changed to life imprisonment. 59 were sentenced to 15 years imprisonment, and ten were acquitted. The 21-year-old James Daly was shot by a firing squad in Dagshai Prison on 2 November 1920. He was the last member of the British Armed Forces to be executed for mutiny.
In commemoration of those members of the battalion who gave their lives during the mutiny and subsequently for Irish freedom.
Described as Irish men who were part of the British tradition, Joe Hawes was one of the first five soldiers to refuse to carry out duties. He recalls the conversation he had with the four others the night before the mutiny.
We're out here in India. We're doing the very same job that the British are doing in Ireland suppressing the Irish people. We're out here suppressing the Indians.
The men locked themselves in for the night. The following morning they refused their service to the British government until such time that the troops withdrew from Ireland and the country given its freedom. While they were Irish men, they were also British soldiers and refusal to obey an order is mutiny.
By the morning, the mutiny had spread and Joe Hawes along with thirty colleagues were locked in the guardroom. The rest of the regiment felt shamed and disgraced by these actions.
The men were marched out of the guardroom and addressed by the commanding officer Colonel Digan who pleaded with the men to return to duty and praising the work of the regiment. However, he failed to convince the mutineers and a committee of seven were appointed to take charge. Joe Hawes was one of them. The first thing they did was to replace the Union Jack with the Tricolour. They then installed a republican or "rebel" guard on the camp.
We took down the Union Jack and we put up the Tricolour.
This episode of 'Seven Days' was broadcast on 3 November 1970. The reporter is Denis Mitchell.