Dublin Corporation is to put taxi shelters at ranks across the city.
No more standing in the rain waiting for a taxi as Dublin Corporation has begun to erect shelters at ranks throughout the capital.
Dublin's latest street furniture, a shelter for queuing taxi customers.
There are plans for forty taxi shelters throughout the city and the first one has been put in place on O'Connell Street.
Director of Traffic at Dublin Corporation Owen Keegan says that the shelters which have seats, roofing and lighting, will offer a degree of comfort to passengers queuing at taxi ranks.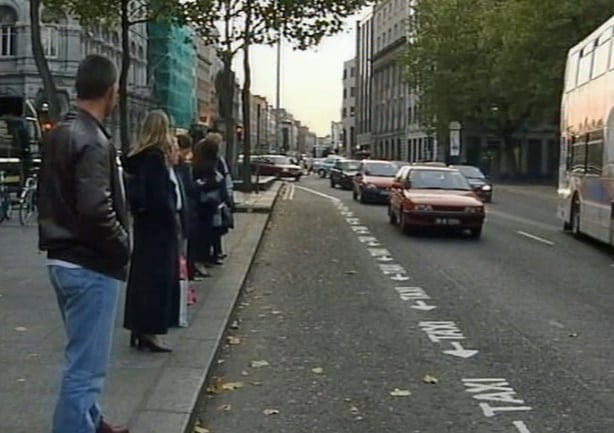 Taxi Queue on College Green, Dublin (2000)
The shelters will carry some advertising but no commercials will be permitted in certain locations such as College Green. The shelter will also provide information on taxi fares.
The shelters have received positive feedback from taxi drivers who are happy that Dublin Corporation is helping to enhance their service.
This may not help to make the taxis come any faster.
An RTÉ News report broadcast on 9 June 2000. The reporter is Carole Coleman.