Heads of state, political and religious leaders attend the funeral of Cardinal Tomás Ó Fiaich at St Patrick's Cathedral in Armagh.
Five cardinals, over fifty bishops, hundreds of priests, representatives from other Christian churches, state leaders and politicians joined the family, friends and community to remember and pay tribute to Cardinal Tomás Ó Fiaich.
Cardinal Hume of Westminster was there, with Cardinal Law of Boston, Cardinal O'Connor of New York, Cardinal Simonis of the Netherlands, and Cardinal Arinze from the Vatican.
The archbishops of Dublin, Cashel and Tuam led bishops from their provinces, and the abbots of Irish monasteries represented their communities.
From the political sphere were President Patrick Hillery, Northern Ireland Secretary Peter Brooke, and representatives of the political parties north and south.
The Church of Ireland Archbishop of Dublin Dr Donald Caird represented the Archbishop of Armagh Dr Robin Eames, who had to chair a synod debate on the ordination of women priests. Representatives of the Presbyterian, Orthodox, Methodist and other churches were also present.
Bishop of Down and Connor Doctor Cahal Daly was the chief celebrant at the requiem Mass. In his homily, he recalled Cardinal Ó Fiaich's popularity, his condemnation of violence and his commitment to creating and finding a peaceful solution for Northern Ireland's problems,
The validity of both identities in Ireland, and the right of both to continue must be accepted as the basis for future peace...our first step...must be to secure an end to violence on all sides.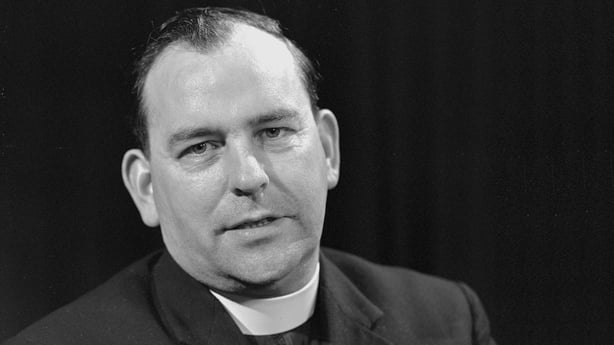 Cardinal Tomás Ó Fiaich (1965)
Scouts who had formed a guard of honour during the cardinal's lying in state led the procession from the cathedral to the cemetery, where Cardinal Ó Fiaich was laid to rest next to Cardinal D'Alton and Cardinal Conway
An RTÉ News report broadcast on 15 May 1990. The reporter is Kieron Wood.