Reverend Margaret Gilbert makes ecclesiastical history by officiating at the wedding of her daughter.
The Church of Ireland wedding of Deirdre Gilbert and fiancé Robbert Huddleston took place in St John the Baptist Church, Clontarf in Dublin.
The first Anglican priest here to officiate at her daughter's wedding.
Meanwhile, at the Milltown Institute of Theology, a seminar organised by BASIC (Brothers and Sisters in Christ) took place as part of the Worldwide Day of Prayer for the ordination of women in the Catholic Church.
Professor Mary McAleese, Vice Chancellor of Queen's University, described as "bogus" the Catholic Church's reasons for not ordaining women. Professor McAleese was a member of the Catholic Church's delegation to the New Ireland Forum ten years earlier. She said that women were offering themselves as priests to the Catholic Church at a time of falling vocations.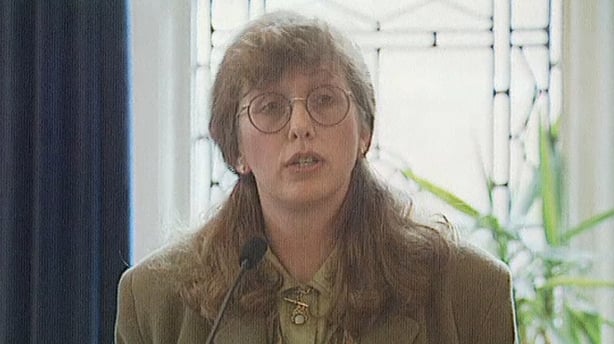 Professor Mary McAleese (1995)
An RTÉ News report broadcast on 25 March 1995. The reporter is Joe Little.