Mary McAleese, the candidate of the Fianna Fáil and Progressive Democrats parties, is elected as the eighth President of Ireland.
Flanked by the Taoiseach Bertie Ahern, the Táinste Mary Harney and other members of the government, Mary McAleese spoke to the press gathered at Dublin Castle for the presidential election results.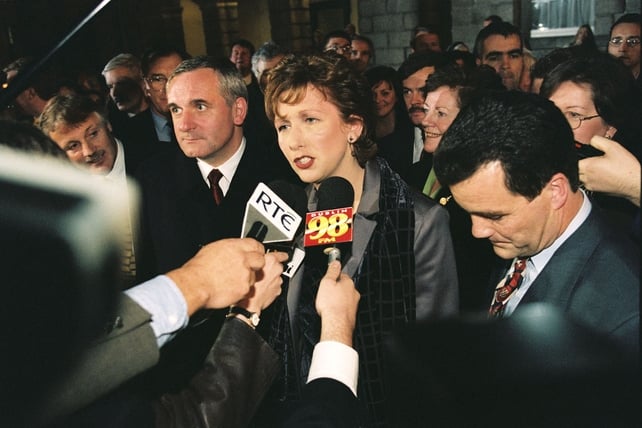 Although not yet officially elected, Mrs McAleese promised,
To be the very best President I possibly can be.
All parties intend to put the bitter presidential campaign behind them, and the Taoiseach thanked everybody who worked and voted for Mary McAleese. He wishes the President elect well as she embarks on her new role.
We're just proud tonight that this country will have an excellent President to represent this country as we move into that 21st century.
Inside Dublin Castle, Mary McAleese and her family and friends gathered with rival candidates Mary Banotti, Dana Rosemary Scallon and Derek Nally, to hear the national returning office announce the results of the first count.
Mary McAleese received 574,424 first preference votes and will be in inaugurated as the eighth President of Ireland on 11 November 1997.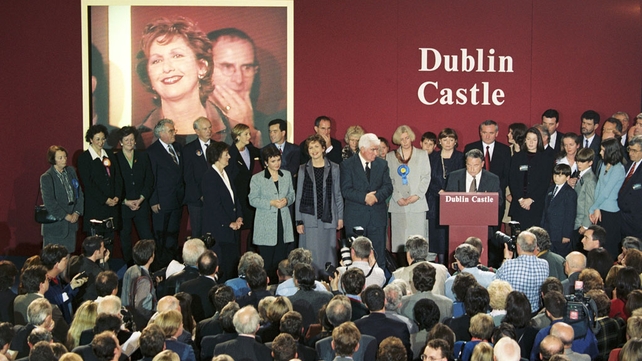 An RTÉ News report broadcast on 31 October 1997. The reporter is Charlie Bird.