The artist Patrick Scott, is elected as a Saoi of Aosdána, and presented with the Gold Torc the symbol of the office by President Mary McAleese.
President McAleese said Patrick Scott had created an enormous body of work which had greatly enriched the store of Irish culture.
Born in Cork in 1921, Patrick Scott trained as an architect and worked on a number of projects including the mosaics at Dublin's Busaras. Scott became a full-time painter in 1960 representing Ireland at exhibitions including the Venice Biennale and the Guggenheim International Exhibition in New York. Scott has also worked with tapestries and in printmaking.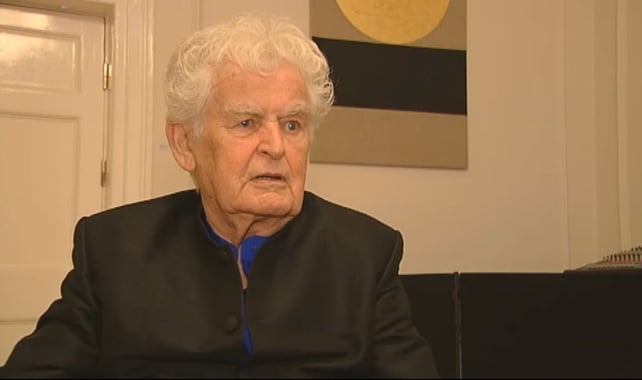 Patrick Scott (2007)
In May 2007, he was elected as one of the five Saoithe of Aosdána. Scott is one of the founding members of Aosdána and said becoming a Saoi was a great honour.
I was delighted... ecstatic maybe. It's a tremendous honour. You're honoured by your peers and there's no better honour.
An RTÉ News report broadcast on 11 July 2007. The reporter is Sinéad Crowley.