An exhibition featuring work across sixty years of Patrick Scott's paintings and tapestries opens at the Hugh Lane Gallery in Dublin.
One of the first Irish exponents of pure abstraction, although he's also recognised as an innovative interpreter of landscape.
Curator Rebecca MacLaughlin says,
This exhibition explores highlights of a career which encompasses over six decades and he is still producing work.
Commenting on the exhibition, Scott himself admits to being a bit nervous about the exhibition and feeling a bit exposed and describes the exhibition as
Warts and all.
For the first time in its history, the Hugh Lane Gallery has allowed its rooms to be painted in specific colours to suit the exhibits.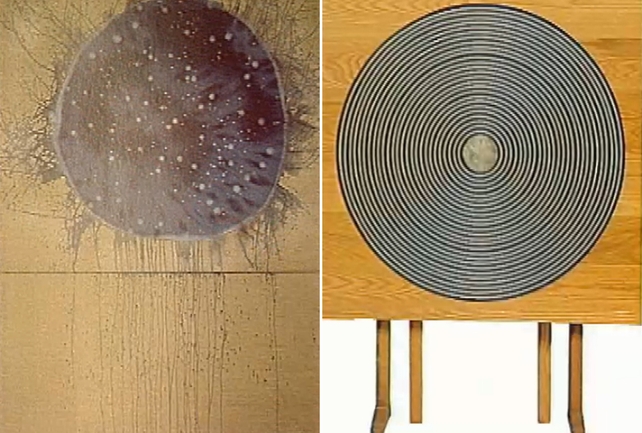 Patrick Scott Paintings
Artist Patrick Scott was a lover of cats and at one stage had fifteen of them. One of his cats 'Miss Mouse' was also the inspiration behind his redesign of the appearance of mainline trains for Iarnrod Éireann. Scott used the cat's colours of black, white and orange as the inspiration for his colour scheme.
Born in Kilbritain in County Cork in 1921, Scott trained as an architect. Perhaps his most famous work can be seen in the design of Busáras.
The lure of painting was too strong and he eventually devoted himself entirely to art.
An RTÉ News report broadcast on 7 February 2002. The reporter is Colm Connolly.