An historic day for the Church of Ireland. After years of debate and controversy, the church became the first in these islands to ordain women priests.
Two women deacons, Rev. Irene Templeton and Rev. Kathleen Young, were the first women to be ordained. The ceremony took place at Saint Anne's Cathedral in Belfast, and was celebrated by Bishop of Connor Dr. Samuel Poyntz.
The event was attended by several hundred people. While television cameras were excluded from the actual ceremony the bishop's words of ordination were relayed on loudspeakers.
Receive the holy ghost for the offer and work of a priest in the church of God, now committed under thee by the imposition of our hands.
The two women posed for the cameras along with the four men ordained with them.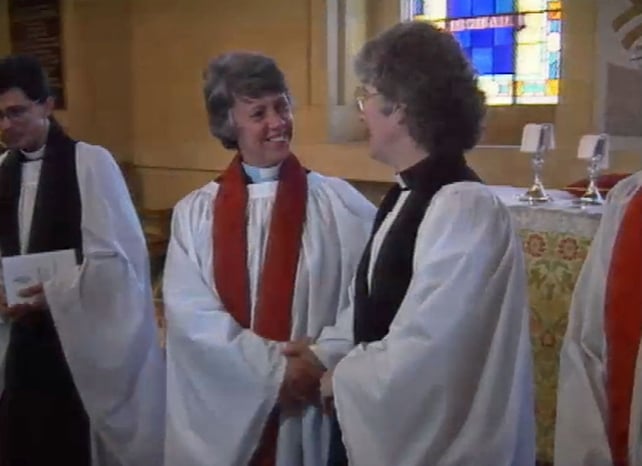 Rev. Irene Templeton and Rev. Kathleen Young
Bishop Poyntz spoke to RTÉ News about the effect that the ordination would have on relations with other churches. He also predicts that we will see the Roman Catholic Church welcoming the ordination of women in the future.
An RTÉ News report broadcast on 24 June 1990. The reporer is Kieron Wood.