Bond villain Jaws is a passenger on a hovercraft that crashes in Dublin city centre.
At the Gresham Hotel in O'Connell Street crowds gather to catch a glimpse of actor Richard Kiel best known for playing Jaws in the James Bond film franchise. He was in Dublin to promote the Boat Show.
The hovercraft itself became mysteriously attracted to several cars.
The seven foot two inch, 23 stone actor took a journey through Dublin's city centre to the Boat show at the RDS bouncing off parked cars along the way. One of the most nerve-wracking spots on route was on Dawson Street.
The show organisers say it was an unfortunate accident and any damage will be fully covered by insurance.
At the Boat Show itself, three million pounds worth of boats from seventeen countries were crammed into the RDS. According to experts, Ireland is in the middle of a boating boom with thousands of new craft taking to the water.
Ted Magee, President of the Federation of Marine Industry claims this popularity has led to a crisis situation in the demand for moorings. He calls for better and more facilities to accommodate the growing demand.
An RTÉ News report broadcast on 23 February 1980. The reporter is Richard Myers.
Richard Kiel was also a guest on The Late Late Show on 23 February 1980.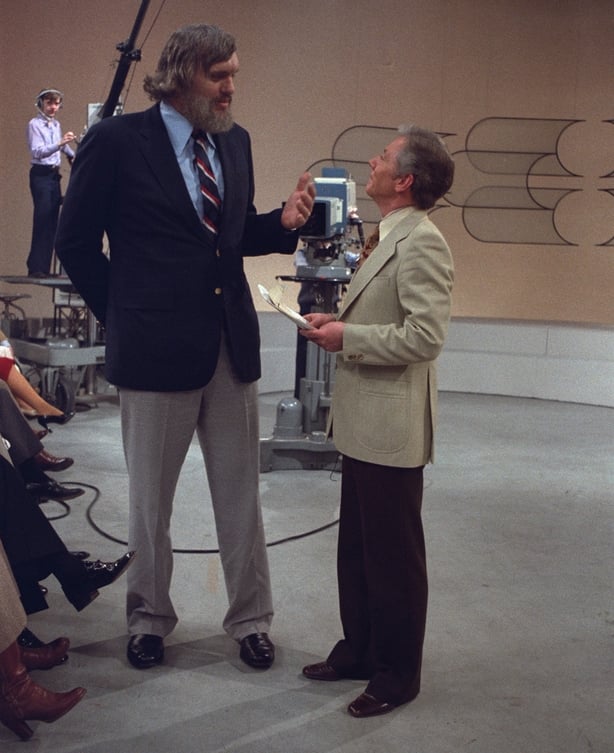 Richard Kiel and Gay Byrne on The Late Late Show, February 1980