A Clare garage owner is building his own one man submarine.
County Clare has a long association with the submarine. Engineer John Philip Holland from Liscannor developed the first one to be formally commissioned by the US Navy in 1875. Now James Tierney from Corofin has made his own submarine. 'Newsbeat' went to Lake Inchiquin, where James Tierney was giving his home made vessel a trial voyage.
This submarine is made of four strong steel barrels powered by a twenty four volt battery and a starter motor from a bus.
James Tierney tells reporter Bill O'Herlihy how he has turned his idea into a working vessel including the precautions he has taken should something go wrong while he is under water. The plan is to have the vessel ready to go under water next Spring.
James Tierney's wife Mary fully supports her husband in his venture and says she would love to go down in the submarine but only if she could swim.
I think it is marvellous a lot of people talk of doing those things but they never seem to finish them or try to do them.
This episode of 'Newsbeat' was broadcast on 4 November 1966. The reporter is Bill O'Herlihy.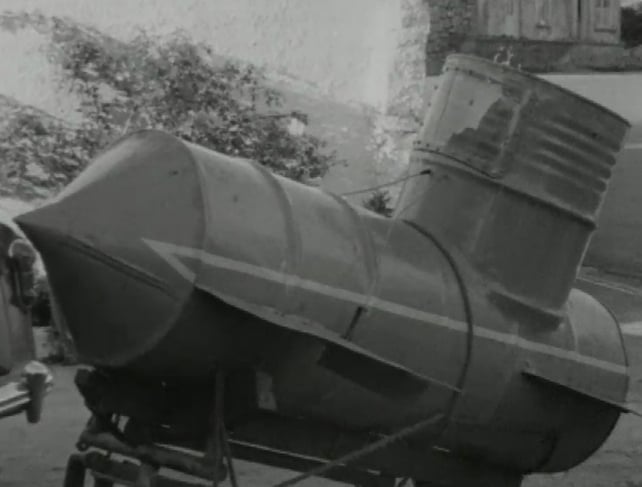 Submarine, Co. Clare (1966)
'Newsbeat' was a half-hour feature programme presented by Frank Hall and ran for 7 years from September 1964 to June 1971. 'Newsbeat' went out from Monday to Friday on RTE television and reported on current affairs and issues of local interest from around Ireland. The final programme was broadcast on 11 June 1971.