The Irish designer of the submarine, John P. Holland, died in Newark, New Jersey on 12 August 1914.
Holland was born in Liscannor, a remote part of Co. Clare, in 1841 and later emigrated to the United States. John de Courcy Ireland, research officer with the Maritime Institute of Ireland, tells the inventor's story to Phil Crotty in this radio piece for RTÉ News, recorded in 1982.
Holland was fascinated by the sea all his life. His father was a coast guard and he would have gone to sea himself if his eyesight hadn't been bad. On the strength of his early experiments with model submarines, he was funded in the US by the Fenians, who hoped to use his invention against the British Navy. The first proper submarine he built was called the 'Fenian Ram'.
In 1900, the US Navy bought a later model, the 'Holland VI'. In the last years of his life, Holland crusaded against the use of submarines in war. He died in the early days of World War 1, without seeing how effective a submarine could be in battle.
The image above shows traditional musician Micho Russell at Holland's memorial headstone in Liscannor, Co. Clare in 1992. The photographer was John Rowe.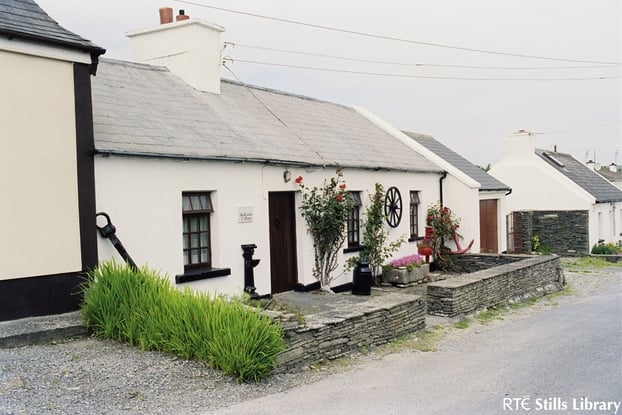 Holland's childhood home in Liscannor, Co. Clare (1992)