Stuntman Eddie Kidd embarks on a four-week show for all the family that comes with a health warning.
In 1980 Eddie Kidd, who claims to have replaced Evel Knievel as the world's top motorcycle stuntman, visited Ireland to demonstrate his skills which are not for the faint hearted. In this report the action took place at Parnell Park, Donnycarney, where Eddie put on a show of his skills. Eddie led a team of stuntmen known as The Daredevils, who have performed spectacular feats for films such as James Bond's 'Diamonds are Forever'.
According to insurance companies, this man doesn't have a leg to stand on.
Eddie Kidd holds the world record for jumping 190 feet over 14 double-decker buses. Eddie spoke to Colm Connolly about his plans to beat his own record by jumping over 15 double-decker buses on 25 August in Milton Keynes, England. The 21 year old Londoner came on the stunt scene at the age of just 15 when he took the junior world record by jumping over eight coaches on his motorbike.
I'm going to try to jump 15 double-deckers and clear a distance of 220 feet. If that's possible.
Eddie made his film debut in 'Heavy Metal', where a broken railway bridge in Essex doubled for the fictitious 'Devil's Leap'.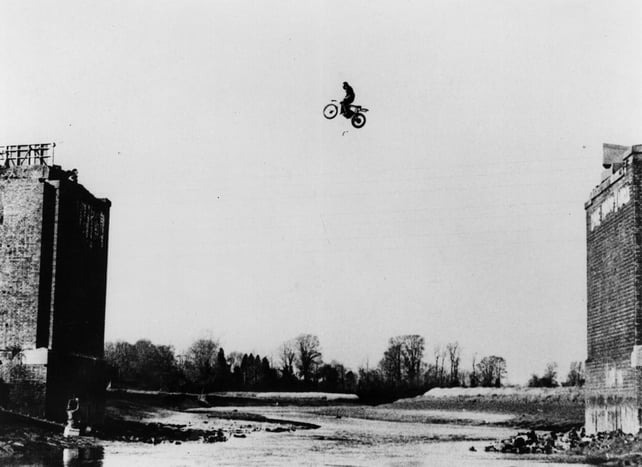 Eddie Kidd in a scene from 'Heavy Metal'
This report also shows stuntman Coltsie Robinson climbing onto the roof of a car as it is driven on its side by Bob Richards.
Colm Connolly reports for RTÉ News on 23 May 1980.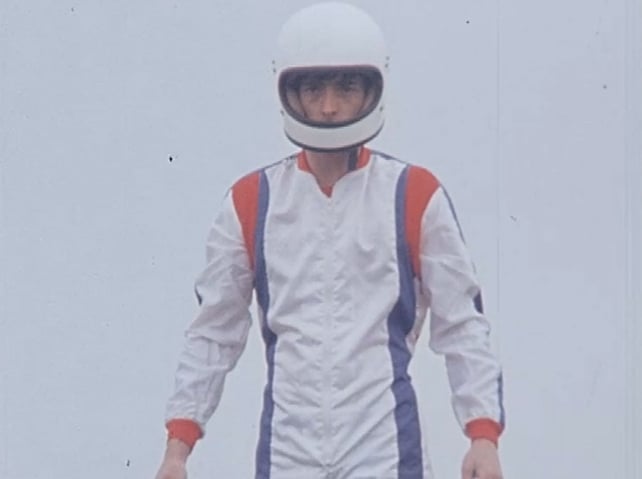 Eddie Kidd