The economic downturn has hit revenue streams at Dublin Zoo which is looking for more land to expand.
Dublin Zoo is in the red to the tune of £44,000 but economic uncertainty is eating into that surplus. It costs £200,000 every year to run the zoo. £100,000 goes on wages, £30,000 on food for the animals and about £18,000 on heating.
Dublin Zoo began in 1830 with one wild boar and since then has earned an international reputation as a great breeder and exporter of lions to Africa.
The zoo is now looking for more land to expand. Management believes that another ten acres in addition to the present thirty acres would improve conditions for some of the animals.
Until last year, receipts at the gate were largely covering the costs. However, the social and political situation in Ireland has affected revenue as a result of bus strikes and bombs. The traditional high number of summer visitors fell.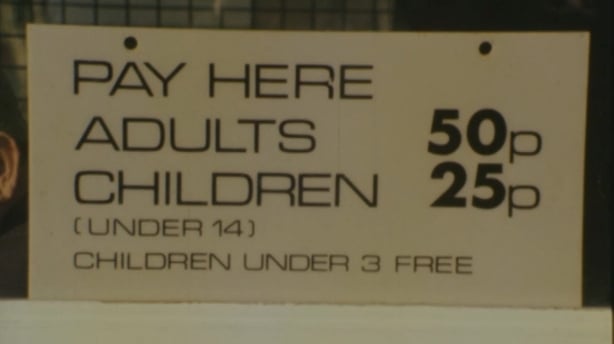 Admission to Dublin Zoo
Dublin Zoo Director Terry Murphy outlines the case for more funding and initiatives that could be put in place to encourage more visitors. According to Mr Murphy, the zoo has three main ares of activity education, conservation and recreation.
The more animals we can keep, the more potential we have of breeding which gives us a greater revenue in return in selling those animals or on exchange for other animals.
The Zoological Society is always seeking support from new members. The society currently has six thousand members and welcomes news members for a price of five pounds a year.
This episode of 'Cope' was broadcast on 4 February 1975. The reporter is Tom McGurk.