There is cake, songs and poetry as children are joined for tea by Leonie the orangutan at Dublin Zoo.
A children's party at Dublin Zoo has a surprise visit from Leonie the orangutan and Aonghus the gorilla.
The party gets underway with the children singing 'Dingle Dangle Scarecrow' before one young boy named Peter recites a poem about a giraffe at the zoo.
Oh Mr Giraffe, you make me laugh that you seem to be made all wrong...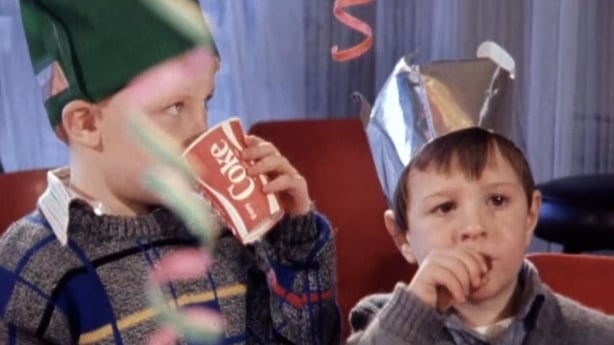 Children at a Dublin Zoo party
The children are joined at the party by a very special guest from the zoo, Leonie the orangutan and sing 'If You're Happy and You Know It, Clap Your Hands'.
Aonghus McAnally then appears at the party in a gorilla costume much to the confusion of Leonie who jumps up on the table with fright. Leonie comes round when Aonghus removes part of his costume to reveal his face.
They all join in for renditions of 'One Finger One Thumb' and 'For She's A Jolly Good Fellow' as Leonie plays with the party balloons.
'Anything Goes' broadcast on 14 December 1985. The presenters are Mary Fitzgerald, Mary Frances Calayco and Aonghus McAnally.