Plans to make Dublin Zoo one of the best in Europe improving animal welfare and increasing visitor numbers.
Concerns for animal welfare and a lack of funding has resulted in serious criticism for Dublin Zoo over the last number of years. A fifteen million pound development plan announced for the zoo by the Minister for Finance Bertie Ahern looks to address these issues.
Today the Zoological Society of Ireland launched their ten year plan to develop Dublin Zoo, improving the enclosures and putting it on a par with its European counterparts. The zoo has received £15 million from the government to do so.
Zoo Director Peter Wilson admits that the additional thirty two acres will be a vast improvement,
Some of our larger animals do not have enough space.
A report written by group of experts from European zoos has said that over three quarters of the animal enclosures should be either replaced or upgraded, and highlighted
Their report singles out for demolition the enclosures housing the giraffes, hippos, chimps and polar bears, among others.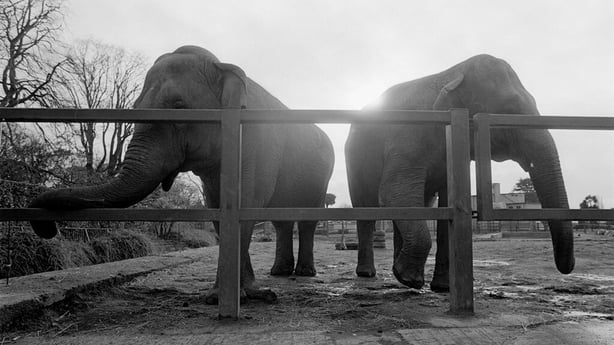 Elephants in Dublin Zoo (1991)
The Minister for Finance Bertie Ahern was present today to launch the development plan. A long time supporter of the zoo, he hopes the plan will guarantee its survival into the next century.
An RTÉ News report broadcast on 27 June 1994. The reporter is David McCullagh.