A look at the place of the Irish language in everyday life in Ireland.
The former Prime Minister of Israel David Ben-Gurion says Irish children need to be taught to understand that being Irish means having their own language. They should primarily speak Irish with English as their second language.
They can be Irish only if they speak the language they have.
The Irish language appears in everyday life around Dublin. There are Irish language and bilingual signage for schools, shops, offices, toilets. Both Irish and English are used on official forms, car tax disks and on the side of buses and telephone boxes.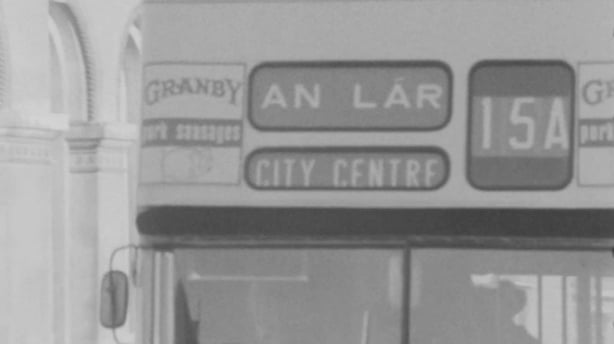 One woman wears a Fáinne, a pin badge worn to show fluency in, or a willingness to speak, the Irish Language.
'Watch Your Language' is a series in English about the Irish language and its place in Irish life. The first episode in the series 'What People Say' examines the problems and possibilities of its restoration.
This episode of 'Watch Your Language' was broadcast on 13 January 1970.