Edward Delaney works with steel to create sculptures that use sound and light in the Connemara landscape.
Edward Delaney, the sculptor responsible for the Thomas Davis Fountain and the statue of Wolfe Tone, displays examples of his latest work in welded steel at his home in Connemara.
Famous as the man who made Wolfe Tone and Thomas Davis in bronze having picked up a number of state commissions in the heyday of state patronage.
Since the sixties, Eddie Delaney's name has been associated with spikey, angular figures in bronze.
Since moving from Dublin to Connemara, his influences and inspiration has changed with his sculpture taking an unexpected direction away from bronze to more geometric, abstract works in welded steel.
For Edward Delaney, sculpture is about more than just the visual. He tries to incorporate sound by allowing the wind to interact with this work. He sees his work at the moment as much closer to music than to sculpture.
I can hear the whole sculpture moving.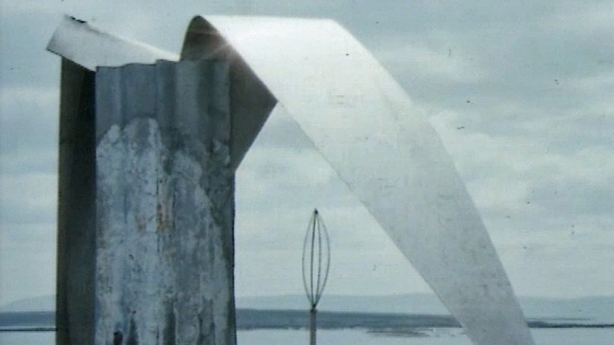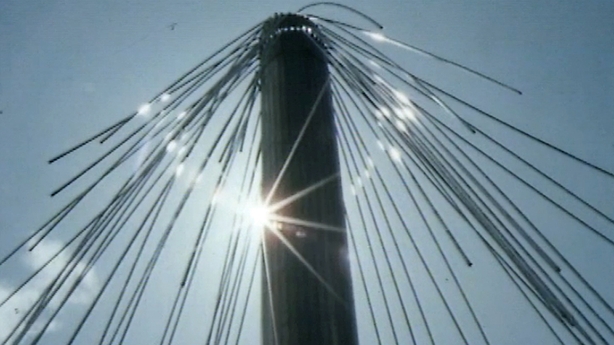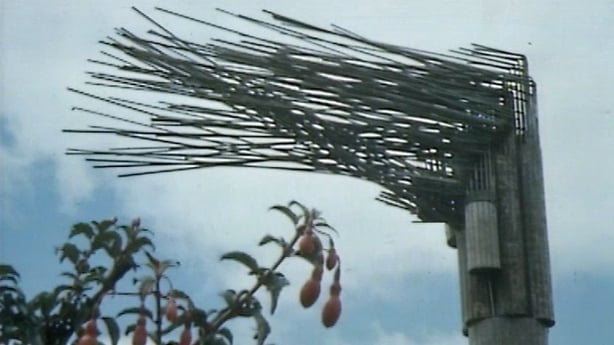 Edward Delaney Sculpture
One of his ideas he believes has commercial potential. He was attempting to design a lamp post to give out light without having a light at the top of it.
I think sculpture at the moment should be more than just a piece of sculpture.
Inspired by the notion that the human race is doomed in the event of a nuclear war, Edward Delaney plans to construct a memorial to the "day after".
This episode of 'Exhibit A' was broadcast on 10 January 1985. The presenter is Frances Ruane.