Colin and Marjorie Johnston have built a roundhouse and are looking to have a self sufficient life in the Burren in County Clare.
Colin and Marjorie Johnston are part of the back to the land movement that grew out of alternative ways of looking at society and lifestyles.
Having been given the use of what was previously scrub land, the couple went about clearing the ground and building a home for themselves and their animals.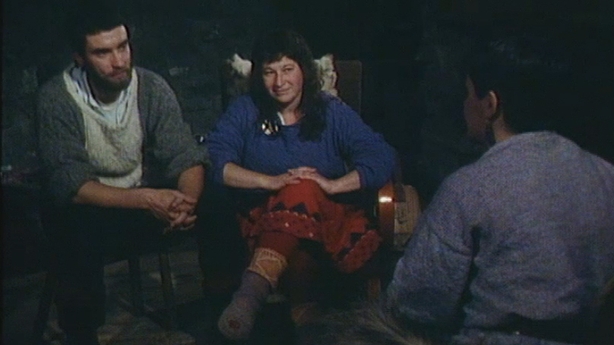 Colin and Marjorie Johnston chatting to Ciana Campbell
Colin from Belfast and Marjorie from Portsmouth gave up city living to strive for rural self sufficiency. Marjorie had always fantasised about living this kind of life but never believed that it could come true. The dream has become a reality having now lived their alternative lifestyle for the last seven years.
They have built a house without the use of any machinery using upcycled local stone and reeds for the roof.
According to Colin,
We both felt very much that we wanted to live in a round house. We both looked at various round structures.
Marjorie adds,
We also wanted something that would fit into the landscape I think, which I believe this does.
The house is based on the traditions of the type of housing in neolithic times when the building of roundhouses with thatched conical roofs was commonplace.
The process of construction may have been quite slow and hard on the hands but ultimately they found it very rewarding.
The Johnstons have also cultivated a vegetable garden, an orchard, and a herb garden. Marjorie is experimenting with using plants to dye wool and also for medicinal purposes.
This episode of 'Access' was broadcast on 10 January 1985. The reporter is Ciana Campbell.
'Access' as the name suggests was a series of programmes made by young people for young people. The series advertised on television for ideas from young people.
With 'Access Community Television' as a full title, the series began broadcasting on 24 November 1983. The content of each programme came from groups around the country who decided what topics would be covered. RTÉ provided the expertise and technical means to make each programme which were presented by Ciana Campbell. The producer was Michael Murphy.