Antiquarian bookseller Enda Cunningham and proprietor of Cathach Books in Dublin talks about his trade.
Cathach Books at number 10 Duke Street is named after a manuscript over which two Irish saints were in dispute. The book shop is a quiet refuge from the hustle and bustle of Dublin city centre.
Owener Enda Cunningham from Carrick in County Donegal has been collecting antiquarian books for many years. He first became interested in them when his wife ran a shop which also sold books.
In addition to finding items for the shop, attending antiquarian book sales around the county was something he enjoyed, and his knowledge grew from there.
The shop on Duke Street stocks books of Irish interest. People interested in Irish history and local history, travel books, poetry and literature, and specialist publishers will all find something here,

"Achan leabhar atá againn, tá sé ag baint le hÉirinn."
Running a bookshop is one thing, but an antiquarian one presents its own challenges, such as valuing books and maps printed decades, if not centuries ago.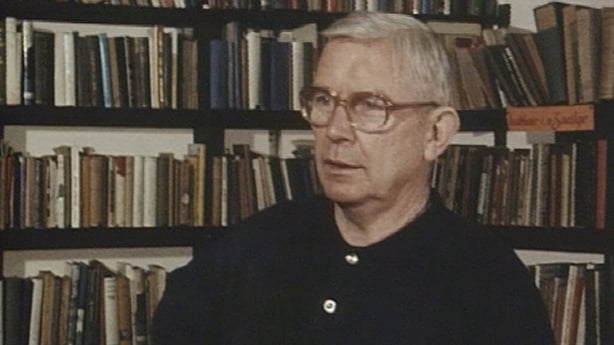 Enda Cunningham (1989)
Part of the work is to establish how rare a book is and how many copies there are in existence. The first edition of James Joyce's Ulysses, for example, sold for £3 when it first came out, and now signed copies of it will sell for £10,000 and have been bought by libraries all over the world, in particular the United States of America.
Other items include a reproduction of the Book of Kells, a first edition of Bram Stoker's Dracula, a first edition set of five John Speed maps of Ireland dating from 1610, Irish language religious books published in Rome in the seventeenth century, and an Irish language grammar book printed on Achill Island in 1845.
This episode of 'Iris '89' was broadcast on 5 November 1989. The reporter is Eamon Ó Muirí.