Thirteen contemporary writers selected for a campaign to boost sales of Irish literature at home and in Britain.
The authors were selected by the Irish Books Marketing Group. At the launch of the promotion, Harold Clarke, Chairman of the Irish Books Marketing Group and Managing Director of Easons, called for a review of Irish censorship laws which he believes no longer make sense and restrict young Irish writers. He recommends the introduction of voluntary control by booksellers in place of the current censorship laws,
It's largely irrelevant. It's out of date. It was set up at a time when public morals were quite different from what they are today.
Books by internationally recognised writers such as Samuel Beckett, William Trevors and Seamus Heaney are included in the promotion, which was launched by Taoiseach Garret FitzGerald. The Taoiseach acknowledged that many writers may be furious that their works are not included.
One of the judges who selected the thirteen authors, Mrs Rita Childers, strongly defended the judges decision and says that you can not please everyone.
The youngest writer selected is Dubliner Mannix Flynn who is delighted with the recognition for young Irish writers.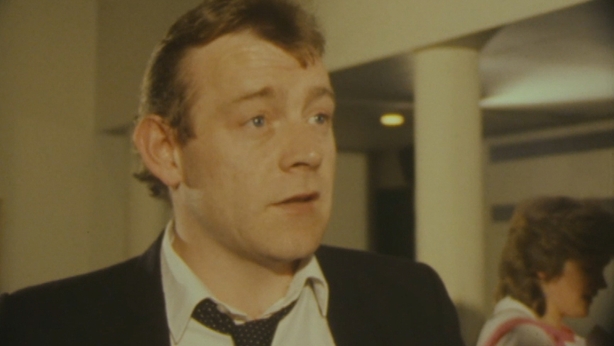 Mannix Flynn (1984)
The "baker's dozen" of Irish writers are John Banville, Samuel Beckett, Mannix Flynn, Seamus Heaney, Jennifer Johnston, Neil Jordan, Liam Lynch, John McGahern, Ryan Moore, Dervla Murphy, Sean O Faoilain, Liam O Flaherty and William Trevor.

An RTÉ News report broadcast on 8 May 1984. The reporter is Joe O'Brien.