On this day in 1989, a fatwa was issued against the author Salman Rushdie over his novel 'The Satanic Verses'. Iranian Muslim leader Ayatollah Khomeini condemned Rushdie and his publishers to death, describing the book as "an offence against Islam".
Vere Wynne Jones introduces this RTÉ News report from the News at Six-Thirty on 14 February 1989. Mike Burns reports from London, where the Indian-born Rushdie is based. The author says he is "very sad that it should have happened" and that it is "not true that this book is a blasphemy against Islam". He doubts that Khomeini has actually read the book.
With his life in danger, Salman Rushdie went into police protection and lived in hiding for years. The fatwa was never officially lifted, but when the Iranian government made a public declaration in 1998 that they wouldn't support it, Rushdie came out of hiding. He continues to receive death threats every year on 14 February.
The image above shows Gay Byrne interviewing Salmon Rushdie on 'The Late Late Show' in 1993. The photographer was Des Gaffney. © RTÉ Archives 2049/005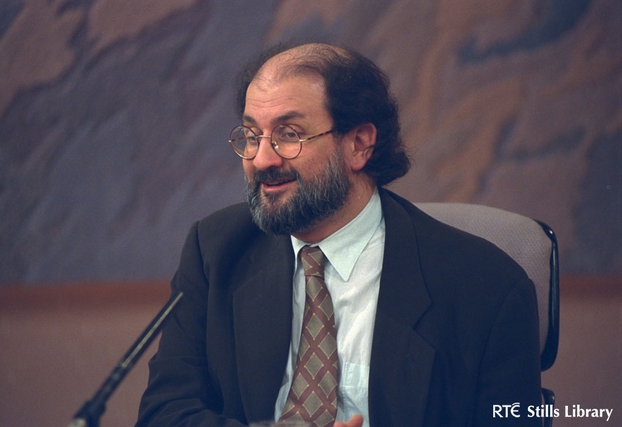 Salmon Rushdie on 'The Late Late Show' in 1993. The photographer was Des Gaffney. © RTÉ Archives 2049/004