Writer Edna O'Brien whose books were once banned in Ireland returns to her native County Clare.
On a visit from her home in England Edna O'Brien meets the people who at one time criticised her and recalls a childhood her parents say was sometimes sad.
Banned for many years after her first book The Country Girls, she became in other people's eyes a scarlet woman.
Edna was born near Scariff in East Clare and returns to the coast where she had filmed her script 'I Was Happy Here'. She describes memory as the strongest ally any person can have.
The further I went away from the past, the more clearly I returned inwardly. Picturing meadows, grasses, some animal caught under briars, cuckoo spit, nightfall, and the way the dogs used to wear the paint away off the back door begging with their bodies to be let in.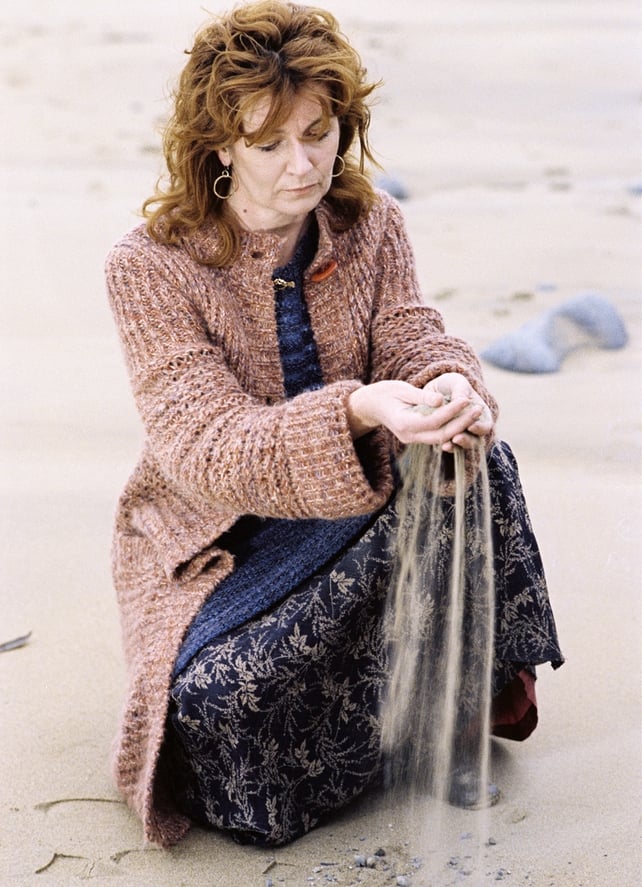 Edna O'Brien (1975)
She rambles the countryside contemplating what kind of country Ireland is.
There must be something secretly catastrophic about a country from which so many people go, escape and the children inherit a trinity of guilts, the guilt for Christ's passion and crucifixion, the guilt for the plundered land, and the more furtive guilt for the mother frequently defiled by the insatiable father.
A local man Jacksie sings a song about friendship for her.
Edna O'Brien grew up on a farm living in a large house, the original country girl.
The girl with green eyes, a scandalous woman but yet the Clare girl. Described by the critics as a writer who gets closer to the hearts of women than anyone else.
Returning to her homestead where her parents still live, they remember her growing up as inquisitive, cute, quiet, observant, honest and sad. They recall her writing as a young girl on scraps of paper.
The spelling mightn't always be all right but the material was good. She had the ideas.

'My Own Place: Edna O'Brien Comes Back To County Clare' was broadcast on 3 December 1975. The narrator is Andy O'Mahony.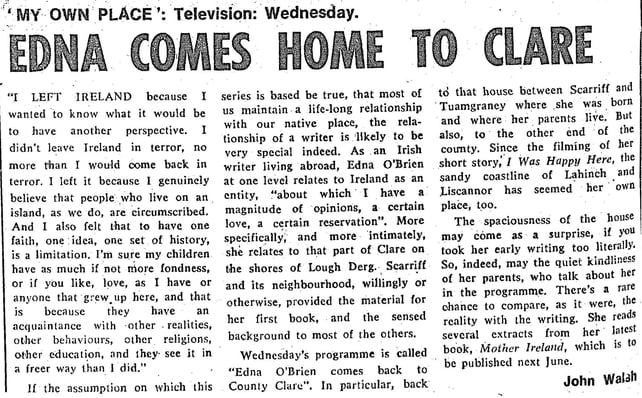 RTÉ Guide 28 November 1975, Edna O'Brien
'My Own Place' was a series in which prominent Irish personalities talked about a locality of special interest to them.
Photographs by Ronan Lee.