Peace in the north of Ireland brings a welcome boost to Belfast business as southern shoppers add to Christmas trade.
As Northern Ireland prepares to celebrate the first totally peaceful season since 1969, traders and business owners in the city of Belfast are experiencing a much welcome bonanza.
Shoppers from the Republic of Ireland are pouring into Belfast with special trains being laid on by Iarnród Éireann. Many people have never been north of the border before, while others have not ventured north since the 1960s.
The peace process has lead to greatly reduced security in Northern Ireland, something that was unthinkable a year ago in the aftermath of the Shankill Road and Greysteel killings.
Dubliners Betty and John Wilson are shopping in Donegal Place. Betty says she would not have come to Belfast if there had been trouble but
It's great, I just feel I'm back home in O'Connell Street.
John visited when he was 16 and is also impressed by Belfast city.
I think it's nice and I'm glad to be here and I'm glad The Troubles are over; or apparently over.
The Fitzpatrick family from Cork won trip to Belfast in a competition on the 'Gay Byrne Show' and are having a great time sightseeing in spite of the weather.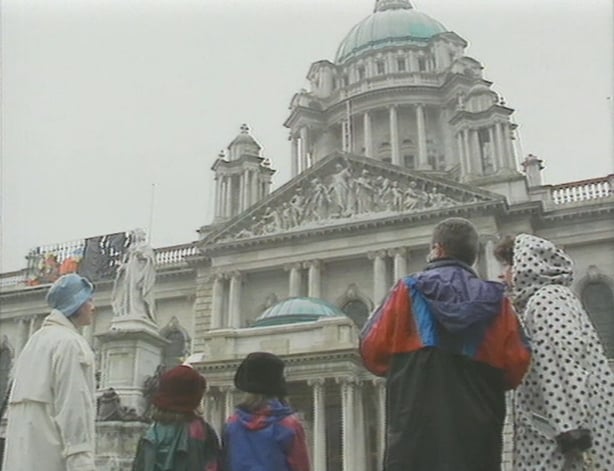 They have visited the Falls and Shankill but Neil Fitzpatrick is particularly impressed by the Linen Hall Library.
Shopkeepers and traders are seeing an extra 10% in business which means an extra £30 million will be taken in. The influx in visitors also means hotel bookings are at their highest for 25 years. Diljit Rana invested in two Belfast hotels during The Troubles and is delighted to see people coming to the city.
With the peace process things are changing and changing very definitely for the better.
Director of the Northern Ireland Chamber of Commerce John Stringer says he has seen the increase of visitors from the south in both Belfast and Derry and expects trade in the border regions to grow.
This episode of 'Nationwide' was broadcast on 27 November 1994. The reporter is Michael Fisher.