Loyalist prisoners on hunger strike in Magilligan Prison Derry want separation from republican prisoners.
Six men are refusing food in an attempt to pressure the prison administration into accepting their request to be separated from Republican prisoners in the Magilligan jail.
Segregation in prisons is commonplace internationally, says East Belfast MP Peter Robinson of the Democratic Unionist Party, as these men fear for their lives,
All that these prisoners are asking for is safety, safety from attack from prisoners of a different pedigree.
The British government has said it will not give into their demands, as it will result in paramilitaries controlling the prisons.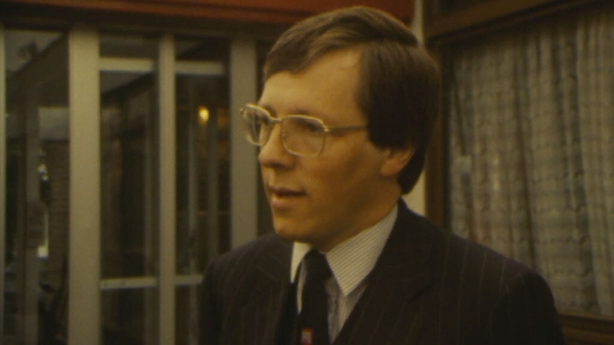 Peter Robinson (1984)
Peter Robinson supports the government opinion stance but maintains that in reality this will not be the case. He cites the Maze prison's system of segregation, which has been in effect for one year, and puts it forward as a workable solution for the current situation in Magilligan,
Why abandon a successful system for one that has clearly not worked, and where there have been very serious attacks, scaldings and beatings up.
At this stage it looks unlikely that Northern Ireland Prisons Minister Nicholas Scott will change his mind. He is due to meet the Loyalist Prisoners' Rights Committee, of which Peter Robinson is chairman, on Monday.
By then two of the men will have been fasting for thirty days, a stage widely acknowledged as the critical point in a hunger strike.
An RTÉ News report broadcast on 14 September 1984. The reporter is David Ross. Parts of this report have natural sound only.