The success of the tenant housing scheme means that the waiting list for houses in Limerick is at an all time low.
With a population of 56,000, Limerick has 15,000 houses, half of which have been built by Limerick Corporation. Under the recent tenant purchase scheme, Corporation tenants could apply for a grant of £5000 to buy their home. To date over 4,000 of 7500 of those dwellings have been bought out by tenants.
At present, only 2,000 local authority houses are now rented in Limerick city, and the housing waiting list currently stands at 120, down from 1500 ten years ago.
Assistant City Manager Flann O'Neill is pleased to be able to say that no one in Limerick city is living in substandard housing,
The appalling houses have all been demolished.
There are still some people living in poor housing conditions, and this is by choice, says Lord Mayor of Limerick Alderman Gus O'Connell,
They would have been offered houses, and they may not like to move, and you don't want to disturb people like that.
Given the small waiting list, how are the Travelling community faring out? Lord Mayor O'Driscoll says that Traveller households are included in the Limerick Corporation housing plans,
We have a very good record of housing Travelling people, I think we had the highest proportion of any local authority in the country.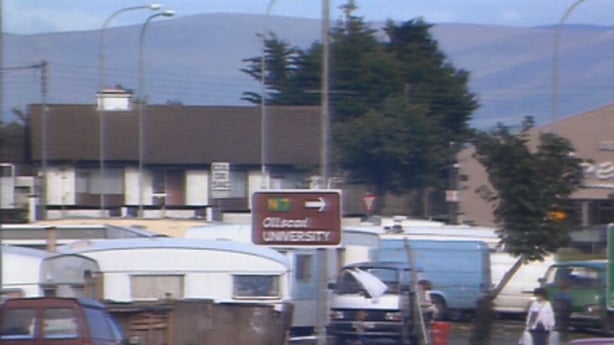 Halting site in Limerick city (1989)
While developers are spending an estimated £50 million on building private housing estates in the city, the reality of emigration for many is never far away.
An RTÉ News report broadcast on 13 September 1989. The reporter is Michael Lally.