Canoeists from across the world negotiate weirs and fast flowing currents in a race down the river Liffey.
Teams from all over Ireland, Britain, Denmark, Switzerland, Germany and South Africa compete in Ireland's premier canoeing race, recognised internationally as being one of the most difficult in the world.
At a pre-race meeting at Castletown House, County Kildare, the canoeists are briefed on the course and its challenges. It is the first time a South African team will attempt the Liffey Descent.
In 1960 a small inter-club canoe race between O'Connell Bridge and Butt Bridge took place, to coincide with the Boat Show. The following year the course was slightly longer, from Straffan to Islandbridge over two days, and in 1963 the current course of sixteen and a half miles was agreed upon, from Celbridge in County Kildare to O'Connell Bridge in Dublin city centre.
The race was officially named the Liffey Descent in 1964 and became an established event on the international canoe racing circuit, helped in no small way by the ESB (Electricity Supply Board) releasing thousands of tonnes of water from its Poulaphouca reservoir to make the course as severe a test as possible.
The fastest boats start first, followed by the other classes at two minute intervals. As Ernie Lawrence of the Salmon Leap Canoe Club explains, the safety of the canoeists is paramount, and frogmen are stationed at the weirs, as boats do capsize,
They haul out quite a few people.
An experienced canoeist himself, the notorious Wren's Nest weir is the one he fears the most. Its shape means different strengths of water pouring in on either side,
It causes a ferocious boil at the bottom...unless you take it to within a couple of inches of the correct spot, you're in trouble.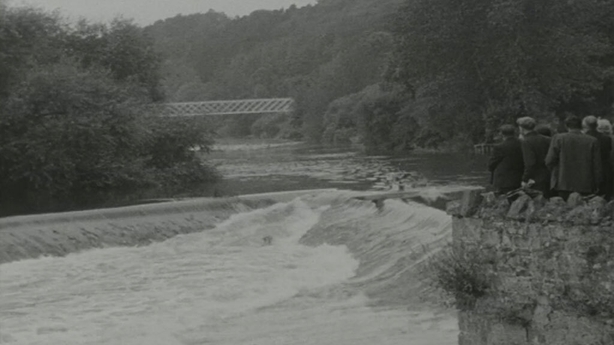 Canoeist descending the Liffey near the Strawberry Beds (1969)
A good canoeist needs stamina in spades and a thorough knowledge of the course maintains Ernie Lawrence. Even so, only sixty-five per cent of competitors make it as far as the Palmerstown Weir, and from there they paddle down the relative calm of the Liffey to the finishing line at O'Connell Bridge.
The South Africans win the two major events, the K1 and K2 classes, Britain takes the team prize, and Ireland's best K1 placings are from the Salmon Leap Club. But anyone who completed this course can claim a victory,
Only the best could survive the boiling cascading torrents in such frail and delicate craft.
This report for 'Sport In Action' was broadcast on 11 September 1969. The reporter is Fred Cogley.