Japan know a difficult challenge lies ahead in their World Cup game against Ireland but manager Shiggy Konno believes that it is not impossible.
The Japanese Rugby team are in Ireland for a pool 2 match in the Rugby Union World Cup which takes place on 9 October.
Ahead of the game at Lansdowne Road, the team trained at Terenure Rugby Club where RTÉ News spoke to their manager Shiggy Konno, who has been chairman of the Japanese rugby union for the last twenty years and is a former Kamikaze pilot.
On 5 October, Japan had lost to Scotland at Murrayfield Stadium in Edinburgh by a score of 47-9. Despite their loss, Shiggy Konno was happy with the team's performance and has decided not to make any big changes to the side.
Japan are seen as very much the outsiders for tomorrow's game at Lansdowne.
Shiggy Konno acknowledges that the odds of winning the pool are stacked against Japan. However, he believes that as a team, they can not give up.
A team when playing against an opponent can never concede from the very beginning. They have to have the heart to win.
An RTÉ News report broadcast on 8 October 1991. The reporter is Colm Murray.
Ireland beat Japan 32-16.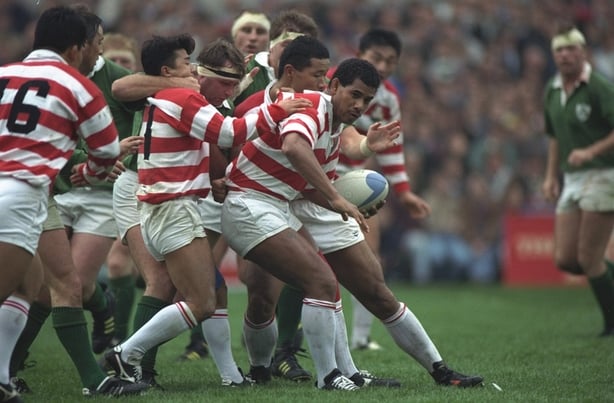 Lansdowne Road, 9 October 1991. Credit: Shaun Botterill/Allsport