Limerick Mayor is interviewed while taking part in a mile long sponsored swim.
Twenty eight swimmers took part in the event which was organised to raise funds for the construction of a sports centre in Foynes which would cost a quarter of a million pounds.
Fianna Fáil MEP Sylvester Barrett gave the signal at the beginning of the mile long race. Even on a hot August day, the coldness of the water was the main challenge for the swimmers.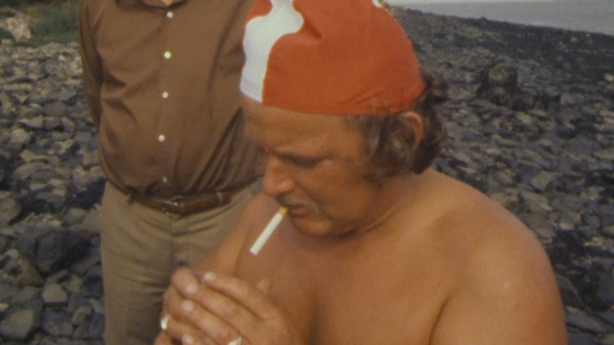 Swimmer has a last minute cigarette ahead of the race (1984)
Mayor of Limerick Alderman Frank Prendergast took part in the swim and reporter Michael Walsh took to the water to interview him.
Frank Prendergast is insistent that his involvement in the race is not political and is purely to help the Foynes community. He also dismisses the extent of the rivalry between the ports of Foynes and Limerick.
The political interest continued as the swimmers arrived on the shore where they were greeted by Fine Gael MEP Tom O'Donnell along with what appeared to be half the population of Foynes. Each of the swimmers was presented with a trophy.
An RTÉ News report broadcast on 21 August 1984. The reporter is Michael Walsh.