Tonnes of rubbish are left the on beaches of north Dublin over the June bank holiday weekend.
The good weather at the weekend make Dublin's beaches an attractive destination. Who really wants to spend a day at the seaside when there is almost as much rubbish lying around as there are people?
One lady there who has come with her son for a day out describes the litter-strewn scene at Portmarnock beach,
Filth and dirt, bottles and cans and waste off food...bags of it.
Another lady describes what visitors to this part of Fingal County Council can expect to see,
Bottles, empty beer bottles, cans, wet nappies, old towels, shoes, even sausages...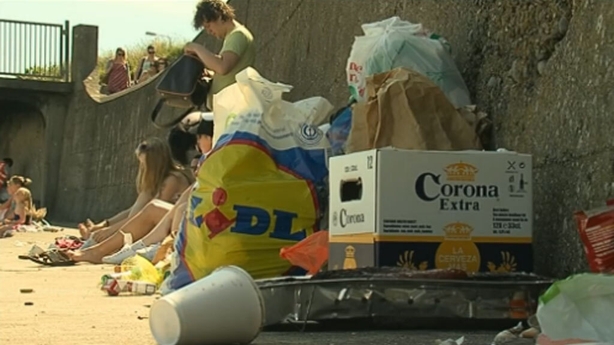 Litter on Portmarnock Beach (2009)
The beach cleaning machine had been out this morning, but the arrival of large numbers of day trippers meant it could only clean half the beach. Council staff arrived in the afternoon to pick up litter, but had limited impact, given the scale of the refuse.
Fingal County Council says it simply doesn't have the resources...to keep these beaches as clean as it would like this year.
Fingal County Council says that visitors must take more responsibility for disposing of their own rubbish, and use the bins at the entrances to each of the beaches. Due to current financial constraints it cannot afford to place bins on the sands, as it has done in previous years.
An RTÉ News report broadcast on 2 June 2009. The reporter is Philip Bromwell.