Age and apparel no barrier for those taking part in the Women's Mini Marathon and Cork City Marathon.
An 89 year old grandmother will take part in her 20th Mini Marathon in Dublin, and a fireman breaks the world record for running a marathon in full fire fighting gear at the Cork City Marathon.
Two of Ireland's biggest athletics and fundraising events took place this weekend. The Flora Women's Mini Marathon in Dublin attracted 40,000 participants, while the Cork City Marathon had approximately 7,500 runners.
In Dublin, some were running for fun, but many were running for charity. Bernie Dunne was raising money for Cardiac Risk in the Young in memory of her son who died five years ago,
It's my 25th year doing the marathon. My last I hope!
Stephanie Prendergast was also running the Mini Marathon for the Alzheimer's Society of Ireland in memory of a loved one,
My dad suffered from Alzheimer's for about ten years and he recently just passed away in March so it means a lot to me to raise money for Alzheimer's.
89 year old Maureen Armstrong from Upperchurch, County Tipperary was taking her 20th Mini Marathon in her stride,
I enjoy every bit of it and this is my 20th and I'm gone 89 years of age, and I hope to do it again when I'm 90.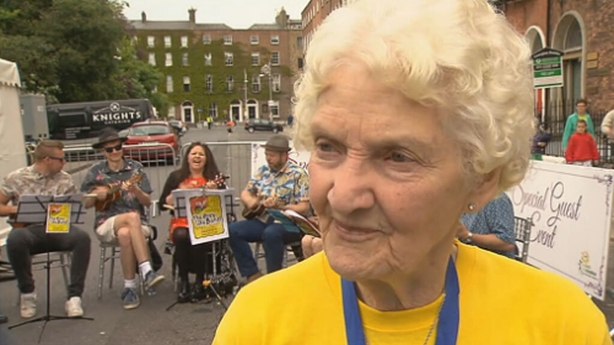 Maureen Armstrong (2014)
The race started at 2pm and was won by Barbara Cleary from the Donore Harriers running club in a time of 34 minutes and 7 seconds.
The Cork City Marathon is now in its eighth year. Those who did not want to run the full 26 miles and 385 yards (or 42.195km), had the option to do a half marathon or a team relay.
Many here also ran for charity, but one was a record breaker. Alex O'Shea from Ballineen in West Cork set a new world record for running a marathon wearing his fire fighter's uniform and boots, with a time of 3 hours 41 minutes.
Rest is most definitely on the cards for him now, as he tells RTÉ News at the finish line that he is feeling
Fairly wrecked.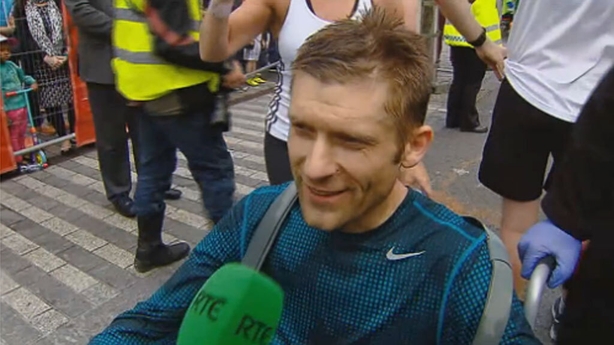 Alex O'Shea (2014)
An RTÉ News report broadcast on 2 June 2014. The reporter is Sinead Hussey.