Organised chaos at Dublin Airport as thousands of soccer fans head for the USA to support the Republic of Ireland at the World Cup Finals.
Dublin Airport experienced one of its busiest days ever when more than 5,000 of Jack's Army arrived for what Aer Lingus called 'Aerlift America'. To cater for the massive number of fans travelling to the World Cup, three special check-in desks were set up in the airport car park area.
In all, 14 transatlantic flights carried supporters to the USA and some of the planes came straight back to Ireland to pick up more fans.
One man travelling to the States with his wife has been saving since Italia 90. The trip suits them both, as his wife can have a holiday while he watches the football.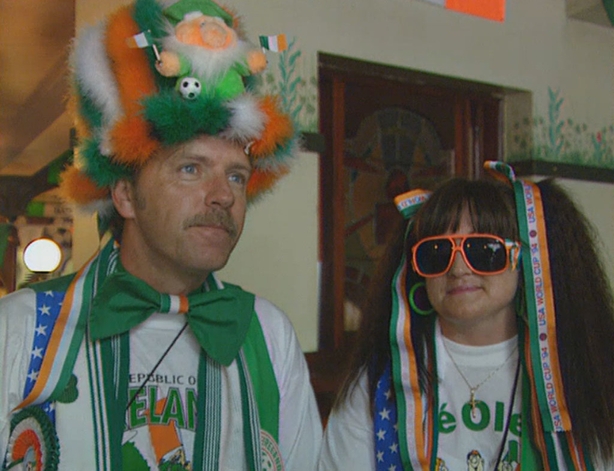 When Ireland qualified for USA 1994, Michael and Ann from Dublin cancelled their wedding so they could go to America instead. They plan to marry in a year's time when they have saved some money. To get to the States they had to borrow money.
The credit union is a wonderful thing and we will be paying back for probably the next ten years.
A woman from Cork decided to travel to the USA in spite of a litany of family events and commitments at home. Meanwhile, fellow Corkonian Joe Daly arrived at Dublin Airport only to discover he was carrying the wrong passport. A tense wait ensued while a friend brought the correct passport from Cork. With just 20 minutes from the time of his departure, the passport arrived and Joe was bound for New York.
An RTÉ News report broadcast on 17 June 1994. The reporter is Michael O'Kane.