All quiet in his ancestral home of Ballyporeen as US President Ronald Reagan leaves the White House.
As George HW Bush prepares to take over as the next President of the United States (US), Ballyporeen in County Tipperary remembers its most famous son, Ronald Reagan, the 40th US President.
Many local people have fond memories of the visit made by President Reagan and his wife Nancy to Ballyporeen to retrace his roots.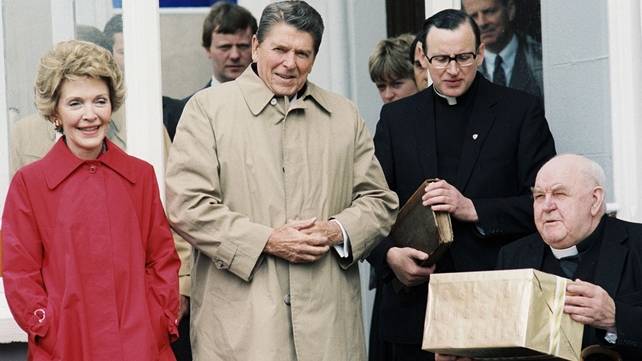 Nancy and Ronald Reagan visit Ballyporeen, County Tipperary in 1984.
This visit put the rural Tipperary community on the map and it became the focus of worldwide interest. Since then, tourists have continued to come, albeit in dwindling numbers.
County councillor Con Donovan from the village is nostalgic about the Reagan years and he believes the eight years of the presidency greatly benefited Ballyporeen. While George HW Bush may not have any specific links to the parish as yet,
We certainly have many bushes in the parish and they all have roots.
The people of Ballyporeen hope to maintain the local connection with the Reagans and would gladly welcome them again should they return on a private visit.
An RTÉ News report broadcast on 20 January 1989. The reporter is Michael Ryan.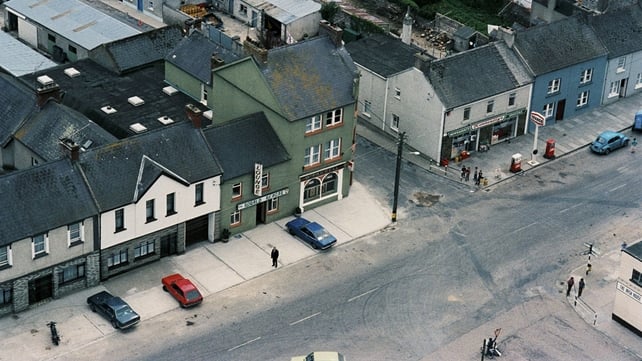 An aerial view of the village of Ballyporeen, County Tipperary in 1984.