After much thought and a drop in vocations the Sisters of the Little Company of Mary will no longer run Galway hospital.
The Sisters of the Little Company of Mary will soon hand Calvary Hospital over to new management, ensuring continuity of care to the people of Galway.
The smallest of Galway's three hospitals, Calvary has just seventy beds. It caters for approximately 2,000 patients a year, and is one of a group of five hospitals and hospitals run by the Sisters of the Little Company of Mary, better known in the locality as the 'Blue Nuns'.
After three decades a sharp decline in vocations and a change of direction for the order means that they will pull out of their Galway hospital. Out of a total staff of almost 100, there are now only eight full time and four part time nursing sisters in the hospital. Their focus now will be on providing care for the terminally ill, and in parish and community ministry. Nevertheless, Sister Geraldine is confident that the hospital's future will be secured, and that the handover, when it happens, will be smooth,
Calvary has a lovely atmosphere, is well located, and it is a purpose-built hospital, so there shouldn't be any bother in running the hospital.
It has been a hard decision for the sisters but a necessary one. The decline in vocations means that they have become more involved in administration, rather than in patient care. And Sr Geraldine says that now their focus will again be on caring directly for the sick and dying. This is the reason their order was founded,
We feel that our place really is to be where people are, to be with them in the stressful situations in their lives.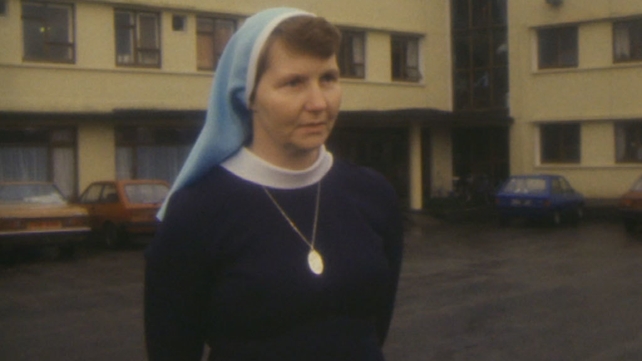 Sr Geraldine, Calvary Hospital (1984)
The announcement that the nuns were withdrawing from Calvary came as a surprise to the nursing and hospital staff, many of whom have worked here for years. As nurse Colette McSpadden explains, they were concerned not only for their own futures, but also for the special type of care that this small hospital provides,
We have had meetings with the nuns and they have been very optimistic and in view of their feeling they way they do we are hopeful that everything will turn out alright.
Consultant Tom McHugh says that a group of hospital consultants may end up running the hospital, but his preference is that another order of nuns will be found to take over. In the event that the hospital does close, the remaining two hospitals in the area, Merlin Park, and Galway Regional Hospital, will be placed under even more pressure than they are at present,
It would be very important from their point of view the Western Health Board's point of view, that this hospital should be maintained, it has a special place in the west of Ireland.
An RTÉ News report broadcast on 9 January 1984. The reporter is Jim Fahy.