Folk music is an integral part of the celebration of the Mass at Bellinter House.
In the Convent of Our Lady of Sion, Bellinter House, County Meath, Mass is being celebrated in a different way. Mass is held in a convent lecture hall and the ceremony sees guitars, tin whistle and mandolin replace the church organ and hymns in Latin.
In some ways, it was not a conventional Mass.
The Mass has been organised by Worship '68, an organisation for Catholic lay people and priests. Popular folk band The Weavers perform 'Shout from the Highest Mountain'. The chief celebrant is Reverend Roman O'Flanagan, OFM (Order of Friars Minor).
The Second Vatican Council (1962 – 1965) brought wide-ranging reforms to the Catholic Church. One new aspect was the use of contemporary Catholic liturgical music at Mass, which was now celebrated in the vernacular, instead of in Latin.
The aim behind this was to facilitate active participation of the entire congregation in the Mass, in music and song. Styles varied around the world, but a folk-based genre became popular in Ireland and other English speaking countries. These became known as 'Folk Masses' or 'Mass with Folk music'.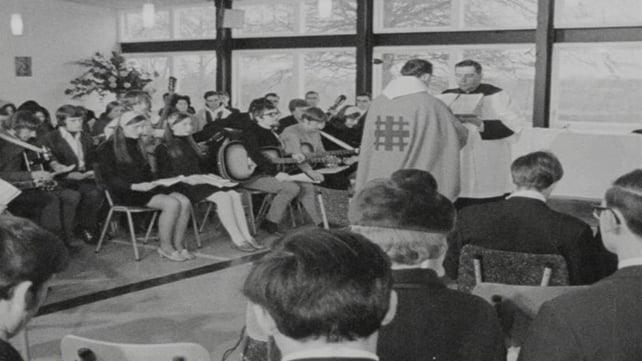 Folk Mass, Convent of Our Lady of Sion, Bellinter House, County Meath (1968)
A Palladian style Georgian house, Bellinter House was designed by Richard Castle and constructed circa 1750. Home to the Preston family for almost two hundred years, the house and estate was bought by an English farmer, William Holdsworth in 1854. In 1966 it was acquired by the Land Commission.
The Sisters of Sion, a French religious order, were based in Bellinter House from 1966. As well as a convent, they restored the house and developed it as an adult education, conference and retreat centre. In 2003 it was sold and opened as a hotel.
'Seven Days' began broadcasting on 26 September 1966 and was RTÉ television's flagship current affairs programme for ten years. The programme's young production team was made up of producer Lelia Doolan, directors Eoghan Harris and Dick Hill, and reporters John O'Donoghue, Brian Cleeve and Brian Farrell.
Muiris Mac Conghail became producer of 'Seven Days' in 1967 when the programme was merged with another current affairs programme, 'Division'.
This episode of 'Seven Days' was broadcast on 6 December 1968. The reporter is John O'Donoghue.