At the Monastery of Saint Catherine of Siena in Drogheda an enclosed order of nuns go about their daily tasks without speaking.
Television cameras are granted a rare look inside the Monastery of Saint Catherine of Siena In Drogheda to see what daily life is like for the order of Dominican Contemplative nuns who live there.
Drogheda's community of contemplative Dominican nuns was founded in 1722 by Catherine Plunkett, a relative of Saint Oliver Plunkett.
Here you give yourself to God for God's own sake and it is a total giving and I think that attracts young people. That is a great challenge.
While the outside world has changed since then, many aspects of the nuns' lives remain the same. An enclosed order, they do not leave the convent, except in extreme cases. All tasks are undertaken by a pre-arranged roster.
Their lives are devoted to prayer and contemplation, and all tasks are carried out without speaking, except for the most essential communication.
The sacrifices for women entering the enclosed order is huge. Leaving your family behind is one, although they can come to visit you at specific times during the year. Is there any particular skill that is useful for convent life? Sister Mary Rose, O.P. (Order of Preachers) says that being adaptable is a good place to start,
You don't specialise in anything, as active sisters do, professionally. You do whatever you just are asked to do, even if you are already a professional person. You...just fill in the community as you are told, you know, just take community life as it comes.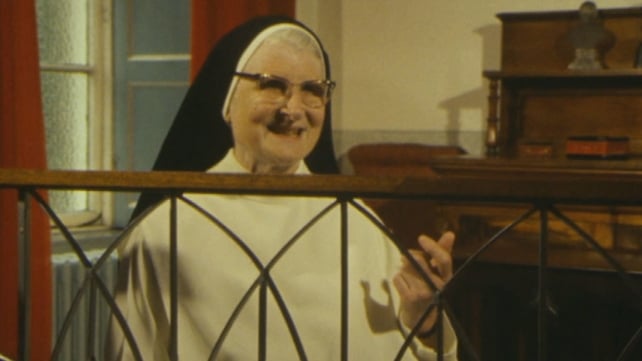 Sister Mary Rose, O.P. (1983)
Being a contemplative order means that they spend most of their time in prayer and study. One criticism often levelled at their way of life is that they are escaping from the world and its problems. The opposite is actually true, explains Sister Mary Rose,
You take the whole world with you, and you're aware much more of the problems than perhaps you would be if you were outside very comfortably in a job married or something like that. You have a much more universal vision of mankind, and I think that enlarges your horizon.
There is one hour in the day for recreation, when the nuns are allowed to talk freely and take some fresh air and exercise in the monastery grounds. It is a very different way of life however. Does Sister Mary Rose think she made the right choice?
I often wonder how I actually when I was so young, just happened to fit into the exactly right place...I think that's what a vocation means, you come where you're called and where you're called, you know. I have had a very happy life, thank God.
An RTÉ News report broadcast on 3 August 1983. The reporter is Conal Ó Moráin.