Met Éireann and RTÉ employ new technology to make television weather forecasts better.
New data will be available to RTÉ to enable television weather forecasts to be more regular and have more information.
Weather reports will now be longer, more frequent and will be presented using the most up to date graphics techniques.
As RTÉ prepares for the new reporting style, a seasoned weather forecaster from the BBC Bill Giles has been on site to offer advice and guidance.
The main thing about the weather is to make it so interesting that you want to watch it. If you watch it with interest, then you'll understand it.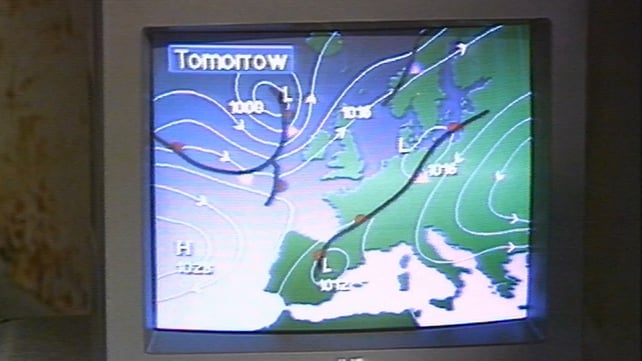 There will now be five weather reports daily across RTÉ One and Network 2 coming from a specially built new weather studio.
Weather Forecaster Gerald Fleming comments on the new improved service to viewers.
It'll be possible to be more up to date because we have our weather office now here in Montrose.
Paddy McHugh, Head of Central Forecast Office, describes how the forecasts will now be more tailored towards specific needs.
An RTÉ News report broadcast on 3 October 1988. The reporter is Cathy Halloran.