The work that goes to produce the Met Éireann weather forecasts at Ireland's national meteorological service.
Met Éireann moved to its north Dublin headquarters in Glasnevin in 1979 and the building includes a laboratory and a library. Over 100 staff perform tasks that include forecasting, environmental monitoring and the keeping of climatological records. Radioactivity in the atmosphere is monitored 24 hours a day and meteorologist Joan Blackburn explains how Met Éireann is poised to provide vital information in the event of a nuclear accident in Britain or Europe.
Immediately we can go to our computer and run programmes and from our programmes we know immediately where the incident occurred, where that will be drifting towards not just at surface levels but right up to 20 or 30 thousand feet.
The Marine Section of Met Éireann's Applications Division gathers information from two moored buoys at sea and this information is used for the shipping forecast broadcast from a radio studio in the Glasnevin headquarters.
Observations are collected from weather stations around the country and following a quality check they are formulated into bulletins and dispatched internationally around the globe. Locally a meteorological officer translates the data into a meteorological code which is then analysed by the forecaster on duty.
Evelyn Cusack has been working at Met Éireann for the last 20 years and has seen great improvements in weather forecasting over the years.
We put quite good store now in our five day forecast and even up to about week ahead although it's unlikely there will ever be accurate forecasting beyond about one to two weeks.
A 'Nationwide' report broadcast on 13 January 2002. The reporter is Valerie Waters.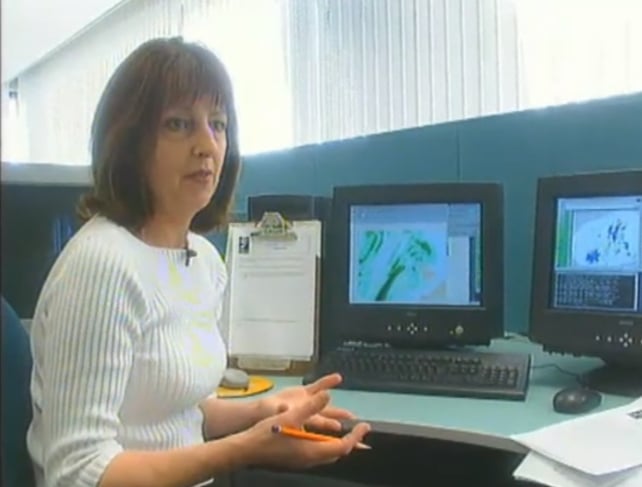 Evelyn Cusack in Met Éireann