Dundrum Castle has been home to the Fitzwilliam family, a butcher shop, a cow shed, and a garden ornament.
The Rathmichael Historical Society are carrying out an archaeological dig at Dundrum Castle which was built around 1590. Excavations have uncovered evidence of a building from the thirteenth century on the same site.
When the archaeological works have been completed, new owner David Newman Johnson hopes to restore the building and ultimately to live in it.
Many of those working on the site come from the Rathmichael Historical Society Summer School for budding archaeologists. Fees collected from the Summer School also helps to fund the dig. At Dundrum Castle, excavators have uncovered metal and pottery objects from the thirteenth to the nineteenth century.
Students at the summer school are taught how to excavate and survey a site and in the evenings attend lectures on archaeology. Betty O'Brien, Director of the Summer School outlines what the programme offers aspiring archaeologists.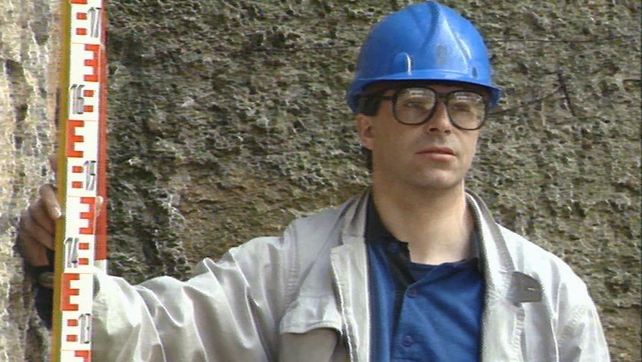 Excavator at Dundrum Castle (1988)
On a daily basis, a log is compiled of work completed and discoveries made at the Dundrum site.
An RTÉ News report broadcast on 17 August 1988. The reporter is Eileen Magnier.