Arnotts will form the centre of a northern quarter for Dublin city centre to include shops cafes, restaurants, bars, apartments and a four star hotel.
Planning permission for the development has been granted subject to 26 conditions, including the preservation of several buildings.
Arnotts had initially proposed the construction of a sixteen storey high rise building on the five and a half acre site. However, these proposals have been scrapped with a height restriction of seven storeys.
The decision sends a signal. High-rise in the city centre won't be allowed.
Kevin Duff of An Taisce comments on An Bord Pleanala's backing of Dublin City Council's policy of protecting the skyline of the inner city.
The big question now is when will this development go ahead.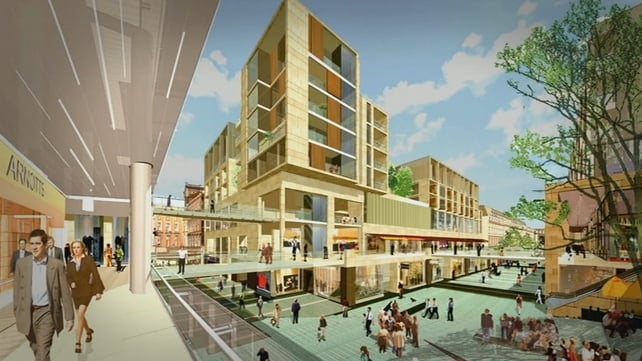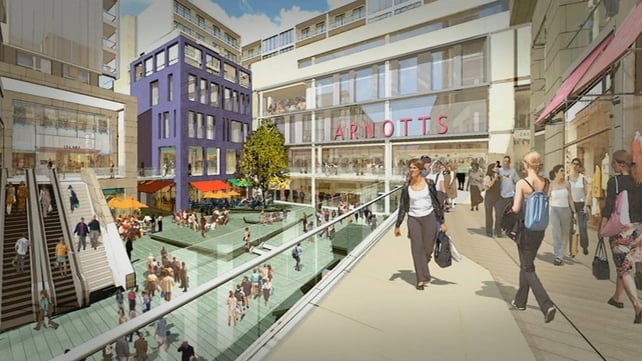 Artist Impressions of Arnotts Development Plans (2008)
Retail experts say that this development is needed as Dublin city has a low per capita volume of shopping centre space. Gina Quin of the Dublin Chamber of Commerce reinforces this view saying that larger retail sites are needed in the city to attract the bigger retailers.
This sort of development provides all sorts of opportunity and we really welcome it for the future of the whole region.
According to Arnotts, the project will create five thousand jobs once completed, and around one thousand during construction.
An RTÉ News report broadcast on 28 July 2008. The reporter is Adrian Lydon.