With holy hour abolished and Dublin pubs opening longer drinkers may face an increase in the price of the pint.
Extended opening hours mean higher wage costs for publicans who are now threatening to pass on this additional cost to customers in the form of a price hike on a pint of stout.
Publicans also say that the extra drinking time has not resulted in extra profits.
Following government intervention which said that there was no justification for the hike in the price of a pint, none of the publicans who RTÉ spoke to had started charging the extra three pence on the pint.
The price of a pint of stout has jumped dramatically in the past decade.
The government threatened to re-introduce control on drink prices if Dublin publicans went ahead with the 3p on the pink hike. Price controls on pub prices were brought in during the 1960s and were lifted by John Bruton Industry Minister in 1986.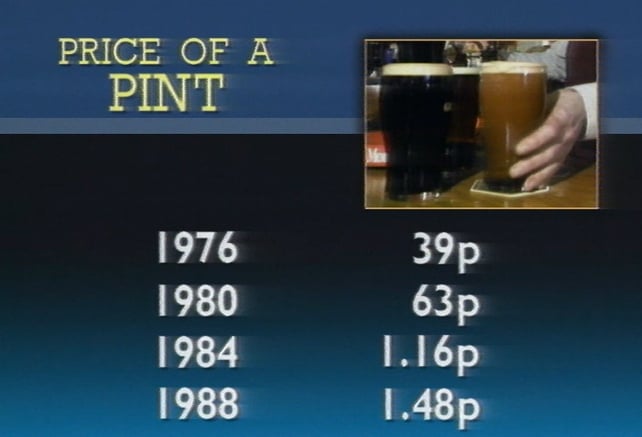 Average Price of a Pint (1976 - 1988)
Frank Fell of the Licensed Vintners' Association says that the price hike is up to each individual publican.
In the past twelve years, the price of a pint of stout has jumped from 39 pence in 1976 to £1.48 in 1988.
An RTÉ News report broadcast on 23 July 1988. The reporter is Alan McCullough.