Fans pack Cork city centre ahead of Michael Jackson's first Páirc Uí Chaoimh show.
A carnival atmosphere in Patrick Street as thousands of Michael Jackson fans converge in Cork for the first of two concerts by the King of Pop tonight. The RTÉ Radio 2 Roadcaster is there to play all his hits.
Irish Rail has mounted a huge operation, with Jackson specials arriving at Kent Station throughout the day. Disembarking fans were greeted by by ticket touts on the platform followed by those selling every form of Jackson paraphernalia outside the station.
Michael Jackson himself has taken over a wing of Jury's Hotel although security in and around the hotel was not as high profile as some had expected it to be.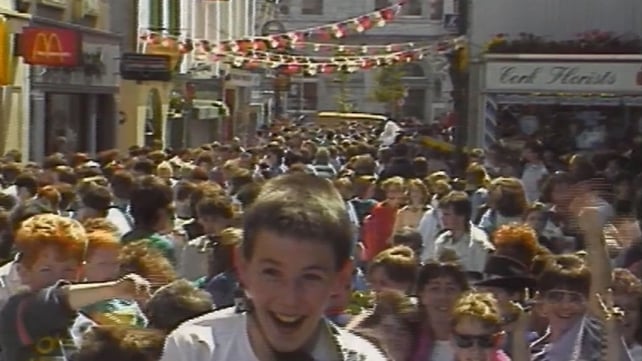 Michael Jackson fans in Cork city centre (1988)
With protection for Páirc Uí Chaoimh's pitch in place, the final touches are being made to the huge stage. Stockton's Wing is one of the acts which will entertain the 60,000 Michael Jackson fans, before he walks onstage tonight around 9 o'clock.
An RTÉ News report broadcast on 30 July 1988. The reporter is Charlie Bird.