Erskine Hamilton Childers becomes the fourth President of Ireland.
The outgoing President Éamon De Valera arrives at Saint Patrick's Cathedral for an ecumenical service prior to the arrival of President-elect Erskine Childers and his wife Rita.
The service is presided over by the Dean of Saint Patrick's Cathedral, the Very Reverend Victor Griffin. Church of Ireland Archbishop of Armagh and Primate of All Ireland the Most Reverend Doctor George Otto Simms is present, as are church leaders of all denominations, and members of the government.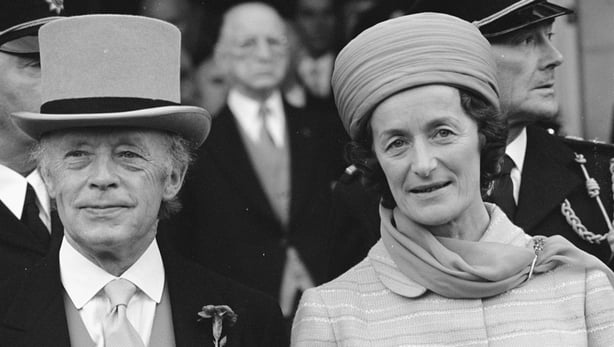 President Erskine Childers and his wife Rita (1973)
After the ceremony, the President-elect and his wife are driven from Saint Patrick's Cathedral past cheering crowds through the streets of Dublin, arriving at Dublin Castle, where the inauguration ceremony will take place.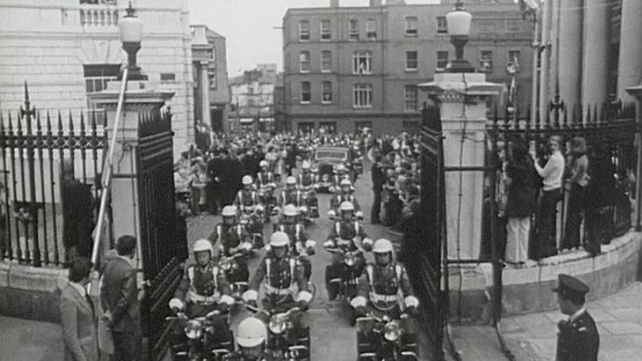 President-elect Erskine Childers arrives at Dublin Castle (1973)
The fourth President of Ireland emerges from the State Apartments to inspect his guard of honour before being escorted to Áras an Uachtaráin by the Presidential Motorcycle Escort.
Born in London in 1905, Erskine Hamilton Childers was the son of patriot and author Robert Erskine Childers and Molly Alden Childers who were both central to the Howth gun-running in July 1914 on board their yacht, Asgard.
A member of Fianna Fáil, he was first elected to Dáil Éireann for Athlone-Longford in 1938. His first portfolio was the Department of Posts and Telegraphs in 1951, before serving as Minister for Lands, Minister for Transport and Power, Minister for Health, and lastly the office of Tánaiste, which he held from 1969 until his resignation in 1973 when he was elected the fourth President of Ireland.
Erskine Childers only held the office of President for almost 17 months, as he died on 17 November 1974.
An RTÉ News report broadcast on 25 June 1973.