An exhibition in Dublin aims to show that there was more to Bram Stoker than just being the creator of Dracula.
The Bram Stoker Room on the top floor of the Graduates Memorial Building at Trinity College, Dublin is housing a display of books and papers. Vincent Wall talks to archivist Leslie Shepard about the legacy of Bram Stoker.
There was more than a dark side to this Victorian Irish man.
Born in Dublin in 1847, Bram Stoker grew up at the family home at 15 Marino Crescent in Clontarf. When the family sold off the house, Stoker took rooms at 15 Kildare Street.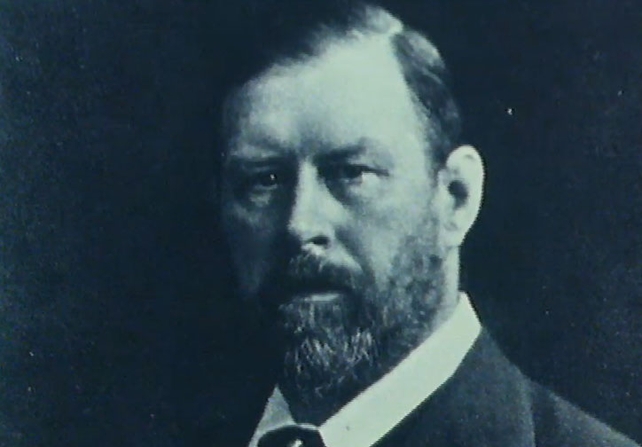 Bram Stoker
Bram Stoker worked for twelve or thirteen years in the Petty Sessions Office at Dublin Castle. For Stoker, this was a dreary occupation which he only enlivened through his love for the theatre. He subsequently went on to work for actor Henry Irving for twenty seven years as a business manager during which he made his most important contributions to artistic life.
He did an enormous amount to popularise theatre.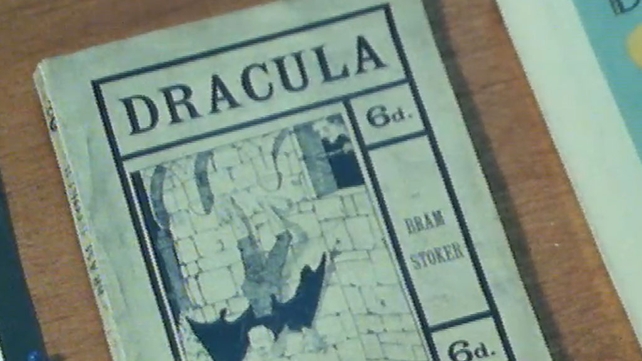 The Diceman as Dracula
The story goes that Stoker met a traveller from Transylvania who came to Trinity College and ignited his interest in vampire myths. However, Stoker himself said that the idea for Dracula came to him from a nightmare he had after a late night meal of lobster.
Another theory is that the story came from his mother's recollections of a terrible cholera plague in Sligo which killed hundreds. According to Leslie Shepard, illustrations in one of his early books 'Under the Sunset' give credence to this theory. For Shepard, the legend of Dracula personifies the forces of evil that exist in the world and people can relate to this.
People have to learn to live with horror.
Some of the artefacts on display in the exhibition are both rare and valuable. Shepard has been collecting Bram Stoker memorabilia for years with an exhibition of this type in mind. As well as first edition books, the collection includes photographs, and autographed letters.
I think that this exhibition may start in a small way a revival of interest not just as I say with Dracula but also with the theatre.
Shepard is hopeful that one day someone will buy Stoker's birthplace and turn it into a Dracula museum.
Dublin is a natural locale for scholars who are interested in Stoker and also for members of the general public who just want to know about Dracula.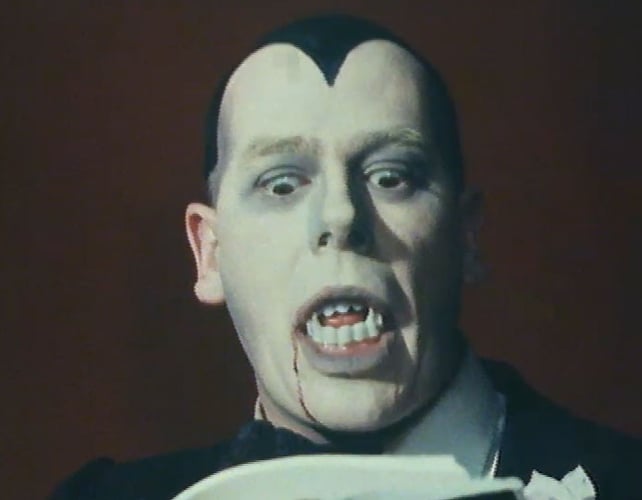 The Diceman as Dracula
This report also features the Diceman, Thom McGinty, playing the part of Dracula.
This episode of 'Evening Extra' was broadcast on 30 March 1988. The reporter is Vincent Wall.
'Evening Extra' was a nightly magazine programme which ran from Monday to Friday at 7 pm dealing with current issues and people in the news. The first episode was aired on Monday 13 October 1986 and it ran for 278 shows over 2 years until the final show on 29 April 1988. The programme had numerous presenters and reporters including Siobhan Cleary, Richard Crowley, Bibi Baskin, Aonghus McAnally and Shay Healy.