On 30 June 1962, the Theatre Royal on Hawkins Street in Dublin closed its doors for the last time marking the end of an era in the entertainment world in Dublin.
Broadcast the following day, 'The Royal Years' was an hour-long documentary on Dublin's Theatre Royal to mark its closing after thirty years. The programme includes many of the notable artists from Ireland and elsewhere, who contributed to the theatre's colourful history. Contributors include Jimmy Campbell, Jack Cruise, Peggy Dell, May Devitt, Allice Delgarno, Danny Cummins, Bill MacCrow, Kathleen Dunham, Babs De Monte, Jimmy O'Dea, Roy Croft, Pauline Forbes, Dick Forbes, Tommy Dando, Joe Lynch, Cecil Sheridan, Maureen Potter, Mickser Reid, Paddy Crosbie and Noel Purcell.
Presented here is an excerpt from the programme featuring actor of stage and screen Noel Purcell
The closing of the Royal is a sad occasion for me considering I spent so many years here.
Noel Purcell recalls the tough times and hard work when starting out at the Royal, but then the people came in their thousands to see the performances. He recalls a gag they used to crack during the war.
Come to the Royal. It's cheaper than lighting a fire.
The war years gave the actors and entertainers time to hone their craft as they set out to put on a fresh show each week for audiences. Noel Purcell applauds the work of dialogue writer Dick Forbes in helping to keep the theatre going. Dick's daughter Pauline who also looks back fondly on her time growing up in the Theatre Royal, which has given her both happy and terrifying memories.
Noel also pays homage to the regular visitors to the Royal.
They got to know us and we got to know them. They were wonderful days and now it's going to close.
Both Noel and Pauline lament the loss of the Theatre Royal.
Some of you old timers looking in at us now. You spent many happy days here. Didn't you? Well they were happy days for us giving you that pleasure.
'The Royal Years' was produced by Tom McGrath and directed by William Harpur and was broadcast on 1 July 1962.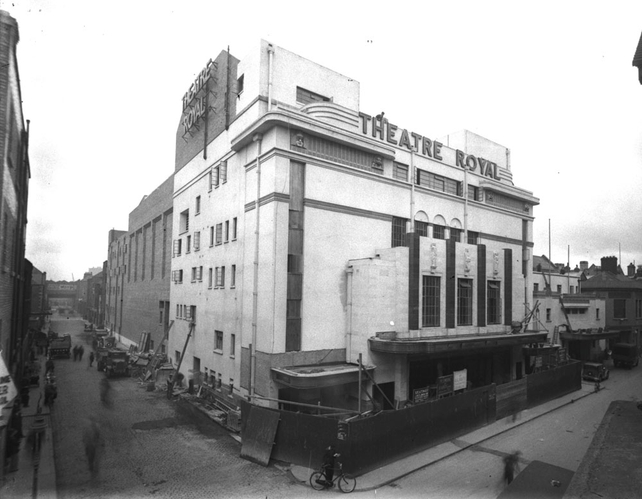 Theatre Royal (circa 1935) prior to opening. Cashman Collection.
The Theatre Royal on Hawkins Street, Dublin opened on 23 September 1935 with a capacity for around 4,000 audience members and at the time was described as one of the finest theatres in Europe.